In a catering business, it is crucial to make your company stand out against the competition. Customers need a reason to choose your services over others in the area, so it is important to provide them with value that nobody else can offer. By uniqueness, we don't mean weird or gimmicky – instead, think about what makes your company special and how that can be translated into a selling point. In this blog post, we'll give you some tips on how to make your catering business unique. Keep reading to learn more!
Here are a few tips to help you create a truly unique catering business:
1. Offer unusual and unexpected menu items.
In the catering business, one of the best ways to stand out from the competition is to serve up unusual and unexpected menu items. While most caterers play it safe with tried-and-true dishes that are sure to please everyone, those who are willing to take risks can really make a name for themselves by offering unique and unusual fare.
Of course, not every catering business has the same goals. Some may be focused on providing an experience that is unlike any other, while others may simply want to offer a more diverse range of options for their clients. No matter what your goals may be, however, there are several things to keep in mind when creating an unexpected menu.
Keep it seasonal
One of the best ways to ensure that your menu items are unexpected is to base them on what is currently in season. This not only guarantees that your ingredients will be fresh, but it also allows you to take advantage of seasonal produce that may not be available at other times of the year. Seasonal menus also tend to be more budget-friendly, as seasonal ingredients are often less expensive than those that are out of season.
Think outside the traditional entrée/side dish/dessert paradigm
When most people think of catering, they typically think of an event where there is a sit-down meal with multiple courses. While this is certainly one type of catering event, it is by no means the only type. Instead of offering a traditional sit-down meal, try thinking outside the box and offering something like hors d'oeuvres or a buffet instead. This will not only save you money on food costs, but it will also allow your guests to mix and mingle more easily.
Utilize global flavors
Another great way to make your menu items unexpected is to incorporate global flavors into your dishes. This can be as simple as using a different type of spice in a traditional dish or as complex as creating a completely new dish that draws its inspiration from another culture entirely. Not only will this help you create unique menu items, but it will also give your guests a chance to experience something new and exciting.
If you're looking for ways to make your catering business stand out from the rest, consider serving up some unusual and unexpected menu items. By thinking outside the box and utilizing seasonal ingredients, you can create truly unique dining experiences that your guests are sure to remember long after the event is over.
2. Create an experience that is memorable and one-of-a-kind.
If you're in the catering business, then you know that creating a memorable and one-of-a-kind experience is essential to your success. After all, people aren't just looking for good food when they hire a caterer; they're looking for an experience that they'll never forget.
So, how can you create an experience that is truly unforgettable? Here are four tips:
Make it personal
The first step is to make sure that your experience is personal. This means going above and beyond simply serving great food; it means making sure that every detail of the experience is customized to your guests' needs and wants. For example, if you're catering a wedding, take the time to get to know the bride and groom so that you can tailor the experience to their specific tastes.
Think outside the box
Don't be afraid to think outside the box when it comes to creating your experience. Remember, people are looking for something unique, so don't be afraid to be creative! For example, if you're catering a corporate event, consider adding some interactive elements to the experience, such as live cooking demonstrations or game stations.
Pay attention to the details
It's often said that the devil is in the details, and this is especially true when it comes to catering. From the moment your guests arrive until the moment they leave, every detail should be carefully considered and executed flawlessly. This includes everything from the music playing in the background to the way the food is presented.
Go above and beyond
Finally, always go above and beyond when it comes to your guests' needs and expectations. This doesn't mean breaking the bank; it simply means providing them with a level of service and attention that they won't find anywhere else. For example, if you're catering a private party, consider adding special touches like VIP seating or complimentary valet parking.
3. Pay attention to all the details, from the tablecloth to the silverware.
When you're running a catering business, it's important to pay attention to all the details. From the food you serve to the way you present it, everything matters. If you want to succeed in the catering industry, here are a few things you need to keep in mind.
The Food Matters
The food you serve is going to be the most important part of your catering business. You need to make sure that you're serving quality food that is fresh and delicious. In order to do this, you need to have a good relationship with your suppliers. Make sure you're getting your food from reputable sources and that you're storing it properly.
The Presentation Matters
The way you present your food is also important. People eat with their eyes first, so if your food doesn't look good, people won't want to eat it. Take the time to learn about proper food presentation and practice it with your team.
The Service Matters
You also need to pay attention to the service you provide. Remember, catering is a service industry so you need to make sure your staff is providing excellent customer service. This means being friendly, efficient, and professional at all times.
The Follow-up Matters
Finally, don't forget about follow-up. After your event is over, make sure you follow up with your clients. Thank them for their business and ask for feedback. This will help you improve your business and make sure your clients are happy.
4. Make sure your staff is professional and accommodating.
First impressions matter. That's especially true in the catering business, where your staff is often the first point of contact with potential clients. As the owner or manager of a catering company, it's important to ensure that your staff presents a professional image at all times. Here are a few tips on how to do just that.
Hire for Attitude and Train for Skills
When you are hiring catering staff, it is important to hire individuals who have the right attitude. This means people who are friendly, outgoing, and have a positive outlook. While it is important to have skilled workers, it is more important to have people who will be able to provide excellent customer service. If you hire individuals with the right attitude, you can train them on the specific skills they need for the job.
Dress for Success
One of the easiest ways to ensure that your staff is presenting a professional image is to have them dress for success. What does that mean, exactly? Well, it depends on the type of catering company you run. If you're a high-end catering company that specializes in weddings and other formal events, then your staff should be dressed in formal attire (e.g., suits and ties for men, dresses or pant suits for women).
On the other hand, if you run a more casual catering company that focuses on corporate lunches and birthday parties, then business casual attire would suffice (e.g., slacks and collared shirts for men, skirts or slacks with blouses for women). The bottom line is that your staff should be dressed in clothing that is appropriate for the type of events you cater.
Train Your Staff
It's not enough to simply tell your staff to dress professionally; you also need to train them on how to act professionally. That means teaching them things like how to properly greet guests, how to handle difficult situations (e.g., when a guest is unhappy with the food), and so on.
The best way to train your staff is to role-play different scenarios with them so they can practice what they would do in real-life situations. By taking the time to train your staff, you'll ensure that they are prepared to handle any situation that might come up while working an event.
Reward Good Performance
One way to motivate your catering staff to perform at their best is by rewarding good performance. This could include giving bonuses or incentive pay for meeting or exceeding sales goals. You could also give employees paid time off or gift cards as a way of saying thank you for a job well done. By showing your appreciation for good work, you can encourage your catering staff to maintain a high level of performance.
Be Professional Yourself
As the owner or manager of a catering company, it's important that you lead by example and be professional yourself at all times. Remember, your staff will take their cue from you, so if you're not behaving professionally, there's a good chance they won't either. That means no yelling or cursing, even if things are getting hectic in the kitchen. It also means being polite and respectful to guests, even if they are being rude or demanding. If you want your staff to be professional, you need to set the tone by being professional yourself.
5. Most importantly, give your customers what they want!
Catering is a business where the customer is always right. After all, it's their event, and you want them to be happy. Here are five ways to make sure your customers are getting what they want from your catering business.
Communicate, communicate, communicate
The key to any good business relationship is communication. You need to be able to communicate with your customers about what they want and need for their event. This means being available to answer questions, being responsive to requests, and keeping them updated on the status of their order. Good communication will ensure that your customers feel comfortable and confident that you can deliver on their expectations.
Be flexible
Catering is a unique business in that every event is different. This means that you need to be flexible in order to meet the specific needs of each customer. Whether it's changing the menu to accommodate dietary restrictions or altering the delivery schedule to fit the customer's timeline, being flexible will show your customers that you're willing to go the extra mile to make their event a success.
Deliver on your promises
This one is simple: if you say you're going to do something, do it. Whether it's delivering the food on time or setting up the event space exactly as the customer requested, making sure that you follow through on your commitments is essential to keeping your customers happy. If you can't deliver on what you've promised, be upfront about it and work with the customer to find a solution that works for both of you.
Go above and beyond
Giving your customers what they want doesn't mean just meeting their expectations; it means exceeding them whenever possible. This could mean adding special touches to the decor or providing extra food so there's never a chance of running out. Whatever it is, remember that the little things can make a big difference when it comes to giving your customers a positive experience.
Get feedback and use it
After each event, make sure to get feedback from your customers so you can learn what worked well and what could be improved for next time. Use this feedback to make changes and tweaks to your process so that you can continue giving your customers the best possible experience each and every time.
By following these tips, you can be sure that your catering business will be one that people remember long after the event is over.
Related Catering Articles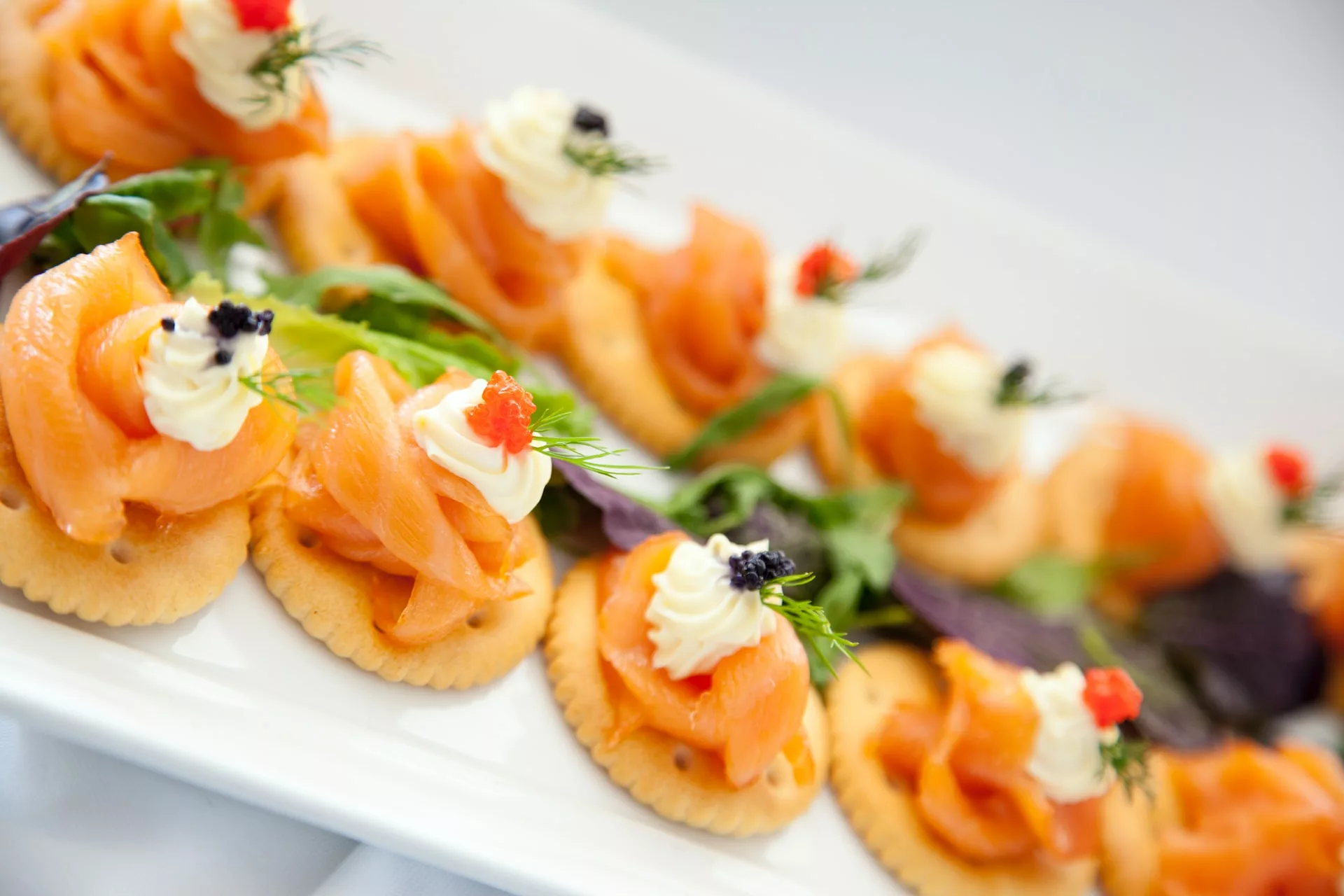 Starting a catering business can be both exciting and daunting. One key factor in its success is understanding who the main customer groups are and how to meet their needs.