Starting your own pizza shop is a dream for many people. It's definitely not an easy path to take, but it can be very rewarding. This guide will walk you through everything you need to know to make your dream a reality. From choosing the right location and designing your menu, to hiring staff and marketing your business, we've got you covered. So get ready to roll up your sleeves and start making some pizzas!
Table of Contents
---
What is a Pizza Shop?
A pizza shop is a restaurant that specializes in the preparation and sale of pizzas. A typical pizza shop offers a variety of pizza toppings and crusts, as well as other Italian-inspired dishes such as pasta, salads, and desserts. Pizza shops typically offer dine-in, take-out, and delivery service. Some pizza shops also offer catering services.
Pizza shops vary in size and scope, from small mom-and-pop shops to large national chains. The most important factor in determining the success of a pizza shop is the quality of the product. Good pizza shops use fresh ingredients and make their dough from scratch. They also have a wide variety of toppings and use high-quality cheese. In addition to good food, good customer service is essential for a successful pizza shop.
Nowadays, there are many different types of pizza shops, from gourmet shops that sell handmade pizzas to fast food chains that serve mass-produced pizzas. Whether you are looking for a quick slice or a gourmet meal, there is a pizza shop to suit your needs.
---
Why would I want to start a Pizza Shop?
Of all the potential businesses you could start, why a pizza shop? It's a valid question. After all, there are already plenty of pizzerias out there, so what would make yours different? Here are a few reasons why starting a pizza shop could be a great business venture for you.
You Can't Go Wrong with Pizza
Pizza is one of those universally loved foods. Whether you like it plain or loaded with toppings, there's a pizza out there for everyone. And that means your potential customer base is huge. Not to mention, starting a pizza shop is relatively low-risk compared to other businesses. The initial investment isn't too high, and if you play your cards right, you could see a healthy return on investment in a short amount of time.
There's More to Pizzerias than Pizza
While pizza is the main attraction at any pizzeria, it's not the only thing on the menu. Most pizzerias also serve up salads, appetizers, wings, and even dessert. That gives you the opportunity to really stand out from the competition by perfecting your non-pizza offerings. For example, if you make the best garlic knots in town or have an amazing secret recipe for chicken wings, people will keep coming back for more even if they're not in the mood for pizza.
You Can Franchise Later On
If your pizzeria is successful and you decide you want to expand your operations, franchising is always an option further down the line. Franchising can be an extremely lucrative way to grow your business without shouldering all the risk yourself. With franchising, you get to maintain control over your brand while someone else handles day-to-day operations. And since pizzerias are such popular businesses, there's always demand for new franchises in areas where one doesn't already exist.
Starting a pizza shop can be a great business venture with plenty of upside potential. Not only is pizza a beloved food enjoyed by people of all ages and backgrounds, but it's also relatively low-risk and easy to get into. Plus, if you play your cards right, you could eventually expand your business by franchising to other locations. So if you're thinking about starting your own business, don't discount the humble pizzeria—it just might be the perfect fit for you!
---
How do I start a Pizza Shop?
Anyone who has ever eaten a pizza, knows that this heavenly food needs no introduction. It is loved by all and can be found in practically every country on earth. But did you know that making pizzas is an art form? And if you're thinking of starting your own pizza shop, there are a few things you need to know first. So read on, and we'll teach you everything you need to know about starting your very own pizza shop!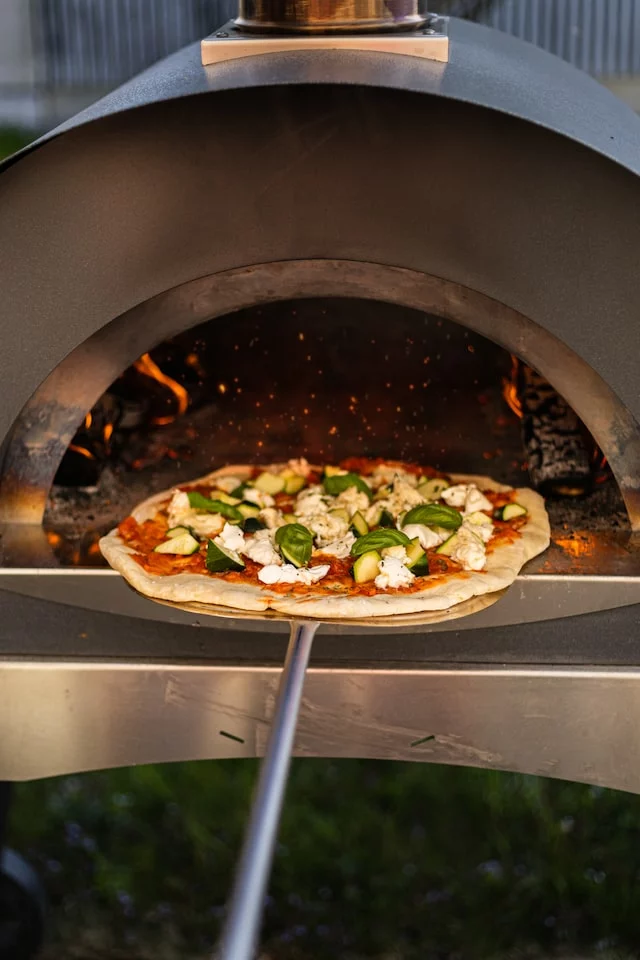 Do your research
Before you open a pizza shop, it is important to do your research and learn about the pizza industry. There are many things to consider, such as the type of pizza you want to sell, the location of your shop, and the competition. It is also important to have a well-thought-out business plan. This will help you to set realistic goals and track your progress. While it may seem like a lot of work, doing your research before opening a pizza shop will help to ensure that your business is successful.
Secure financing
Before you can open your pizza shop, you'll need to secure the appropriate financing. There are a few different options available to you, depending on your circumstances. If you have good credit, you may be able to take out a bank loan. This can be a good option because it will give you the money you need with relatively low interest rates.
However, loans can be difficult to qualify for, so it's always worth exploring other options as well. You could also look for investors who are willing to put money into your business in exchange for a share of the profits. This can be a great way to get the funding you need without going into debt.
Finally, if you have some savings, you could use that to start your business. This is often the riskiest option, but it can be the most rewarding if everything goes well. Whichever route you choose, make sure you do your research and put together a solid business plan before moving forward. With the right planning and execution, your pizza shop will be up and running in no time.
Find the perfect location for your shop
When starting a pizza shop, it is important to choose the right location. The ideal location will be in a high-traffic area with plenty of room to store ingredients and equipment. If possible, try to find a location near other businesses that generate foot traffic, such as a shopping mall or movie theater.
Once you have found a suitable location, it is important to secure the proper permits and licenses from your local government. This will ensure that your business is operating legally and that you are in compliance with all health and safety regulations. By taking the time to choose the perfect location for your pizza shop, you can set yourself up for success from the start.
Buy or lease the necessary equipment
Starting a pizza shop can be a rewarding, but daunting, task. There are many important considerations to make, including what type of oven to use, whether to lease or buy equipment, and what kind of mixer to dough roller ratio is best for your business. While it may be tempting to cut corners and save money by DIY-ing some of the equipment, in the long run it is usually better to invest in quality equipment that will last.
A good oven is essential for making delicious pizza, so it is worth doing your research and investing in a quality oven that will meet your needs. Mixers and dough rollers are also important, and the right ratios will depend on the volume of pizza you plan to make. Again, it is worth investing in quality equipment that will save you time and effort in the long run. Once you have all the necessary equipment, you will be well on your way to starting your own successful pizza shop!
Hire employees who are passionate about pizza and know their way around a kitchen
Are you passionate about pizza? Do you have what it takes to run a successful pizza shop? If so, then you'll need to hire employees who share your passion and know their way around a kitchen. Start by looking for experienced cooks who are familiar with the ins and outs of running a pizzeria. They should be able to handle the demands of a busy kitchen, as well as the pressure of working with hot ovens and sharp knives.
In addition, they should have a good understanding of food safety and hygiene practices. Once you've found a few potential candidates, take the time to interview them to see if they're a good fit for your business. Be sure to ask them questions about their experience in the industry, as well as their thoughts on running a successful pizzeria. With the right team in place, you'll be well on your way to opening up your own pizza shop.
Market your business effectively
A successful pizza shop needs more than great food. You also need to market your business effectively to attract customers. One key way to do this is to create a website that showcases your menu and tells customers everything they need to know about your pizzeria.
Be sure to include clear pictures and detailed descriptions of your dishes. You should also create social media pages on popular platforms like Facebook and Instagram. Use these pages to post updates about your business, share photos of your delicious pizza, and engage with potential customers.
Finally, don't forget about traditional advertising methods like print ads, flyers, and billboards. By taking a comprehensive approach to marketing, you can ensure that your pizza shop will be a success.
---
How much does it cost to start a Pizza Shop?
A pizza shop is a great business venture. Who doesn't love pizza? But before you start whipping up pizzas, you need to know how much it's going to cost you to get your business off the ground. The answer may surprise you.
Pizza shop startups typically fall into one of two categories: owner-operated or franchised. We'll examine the costs associated with both so that you can make an informed decision about which model is right for you.
Owner-Operated Pizza Shops
If you're planning to open an owner-operated pizza shop, the first thing you'll need to do is find a suitable location. The costs here will vary depending on the size and location of your chosen premises, but you can expect to pay anywhere from $1,000 to $5,000 per month in rent.
Once you've found a place, you'll need to outfit it with all the necessary equipment. A commercial oven will set you back around $2,500, while other essential items like knives, chopping boards, and prep tables can be sourced for a few hundred dollars apiece. Then there are the fit-out costs like flooring, lighting, and painting, which can add up to several thousand dollars. All told, you're looking at startup costs in the range of $10,000 to $50,000 for an owner-operated pizza shop.
Franchised Pizza Shops
If you're buying into a franchised pizza chain like Domino's or Pizza Hut, the startup costs will be higher than if you go it alone—but so will your chances of success. When buying a franchise, you not only have to pay the initial franchise fee (which can be several hundred thousand dollars), but you'll also need to build or lease premises that meet the franchisor's specifications.
These fit-out costs can easily run into six figures. However, as a franchisee, you'll benefit from the brand recognition and marketing muscle of a well-established company. This support can make all the difference in getting your business up and running quickly and efficiently. And while there's no guarantee of success when starting any business venture, research shows that franchised businesses have a much higher rate of survival than independent businesses—so it could be worth shelling out that extra cash for a franchise fee upfront.
The cost of starting a pizza shop will vary depending on whether you go down the route of owning your own independent business or investing in a franchise opportunity. In either case, there are some significant upfront costs involved—so make sure you do your homework and budget accordingly!
---
How do I find customers for my Pizza Shop?
Starting your own pizza shop can be an incredibly rewarding venture, but it's important to make sure that you have a plan for attracting customers. Without a steady stream of customers, your pizza shop will quickly become unsuccessful. Thankfully, there are a number of ways to find customers for your pizza shop. By using a combination of online and offline marketing strategies, you can create a customer base that will keep your pizza shop thriving. So, what are you waiting for? Start planning your marketing strategy today!
Create a marketing plan
Any business needs customers to be successful, and a great way to find customers is through marketing. Marketing is the process of creating awareness and interest in a product or service, and it can be done through various channels such as advertising, public relations, and word-of-mouth.
When creating a marketing plan for a pizza shop, it's important to consider the target audience, the key message, and the best channels to reach potential customers. The target audience should be clear, as this will dictate the type of messaging that is used. For example, if the pizza shop is targeting families with young children, then the marketing messages should focus on topics such as convenience and value.
Once the target audience is identified, the next step is to determine the key message that will be communicated. This message should be based on what makes the pizza shop unique, such as its location, its menu, or its delivery options.
Finally, it's important to choose the channels that will be used to reach potential customers. Some common options include print ads, online ads, direct mail, and fliers. By taking the time to develop a well-rounded marketing plan, any pizza shop can find the customers it needs to be successful.
Advertise your pizza shop in local newspapers, online directories, and social media platforms
If you own a pizza shop, you need customers to keep your business going. Relying on foot traffic alone is not enough – you need to actively seek out potential customers and let them know about your shop. One way to do this is by advertising in local newspapers, online directories, and social media platforms. Local newspapers usually have a section for business ads, and many online directories allow you to list your business for free.
Social media platforms like Facebook and Twitter are also great places to reach out to potential customers. You can start by creating a profile for your shop and then posting regular updates about specials, new menu items, and events. With a little effort, you can quickly find new customers for your pizza shop.
Offer discounts and special deals on pizza orders
A great way to drum up business for a pizza shop is to offer discounts and special deals. This can be done in a variety of ways, such as providing coupons in local newspapers or flyers, or offering discounts for large orders. Some pizza shops also offer loyalty programs, where customers can earn points towards free or discounted pizza. Discounts and special deals are a great way to attract new customers, and they can also help to build brand loyalty.
By offering competitive pricing, pizza shops can ensure that they are top of mind when people are looking for a delicious and affordable meal.
Host events such as pizza-eating contests or game nights
Want to attract more customers to your pizza shop? Try hosting events! Pizza-eating contests, for example, can be a great way to drum up business. Just be sure to publicize the event in advance so that people have time to register.
You could also consider hosting game nights at your shop. This is a great way to create a sense of community and get people talking about your business. Board games, card games, and even video games can be enjoyed with a slice (or two) of pizza. So if you're looking for new ways to attract customers, consider hosting some fun events at your pizza shop.
Provide free delivery for orders over a certain amount
When starting a new business, it is important to find ways to attract customers. One common method is to offer free delivery for orders over a certain amount. This can be an effective way to draw in customers, especially if your business is located in a busy area.
Customers who might not otherwise have time to come to your shop can now easily order their favorite pizza and have it delivered right to their door. In addition, offering free delivery can also help to build brand loyalty; customers who have a positive experience with your delivery service are likely to order from you again in the future. However, it is important to set a minimum order amount that will cover the cost of delivery; otherwise, you may end up losing money on each order. With careful planning, free delivery can be an effective tool for attracting new customers and growing your business.
Partner with other businesses in your area to cross-promote each other's services
If you're looking for new customers for your pizza shop, one of the best ways to find them is by partnering with other businesses in your area. You can promote each other's services to your respective customer bases, and you can also work together to offer special deals and discounts. For example, you could offer a discount to customers who order from your shop when they mention your partner business.
You could also team up to host a joint event or promotion. By working together, you can reach a larger number of potential customers and build a stronger relationship with your local community.