Ready to take the plunge and start your own deli? It's a big undertaking, but with careful planning and execution, it can be a hugely rewarding experience. Here's your ultimate guide to getting started. Covering everything from finding the perfect location to stocking your shelves, this post will have you ready to open up shop in no time. Let's get started!
---
What is a Deli business?
A deli, short for delicatessen, is a type of retail business that primarily sells prepared foods such as sandwiches, salads, and soups. In addition to these ready-to-eat items, delis often have a selection of meats, cheeses, and breads available for customers to purchase in order to make their own meals at home. Delis may also offer hot food items such as hot sandwiches or sides like macaroni salad. While some delis are standalone businesses, others are located within larger grocery stores or markets.
The term "deli" is thought to originate from the German word for delicacies or fine foods. Whether you're grabbing a quick lunch on the go or putting together a homemade charcuterie board, stopping by your local deli is sure to provide tasty options for any meal.
---
Why would I want to start a Delicatessen?
A delicatessen is a type of food store where fine foods are sold. These stores first originated in Germany and soon spread throughout Europe. specialty meats and cheeses, as well as prepared foods, are usually what you will find in a delicatessen. In America, delicatessens are often shortened to "delis". If you are thinking about starting your own food business, then opening up a delicatessen could be a great option for you. Here are just a few reasons why starting a delicatessen might be the right choice for you.
You Can Be Creative With Your Menu
One of the great things about owning a delicatessen is that you can get creative with your menu. You are not limited to selling only pre-packaged goods like some other types of food businesses. You can experiment with different recipes and create unique dishes that will attract customers to your store. This is a great way to stand out from the competition and make your business more successful.
You Can Offer Healthy Options
Another advantage of owning a delicatessen is that you can offer healthy options for your customers. In recent years, there has been an increased focus on eating healthy and many people are looking for ways to incorporate healthier choices into their diets. By offering healthy alternatives at your delicatessen, you can appeal to this growing market and make your business more successful.
You Can Build Relationships With Your Customers
When you own a delicatessen, you have the opportunity to build relationships with your customers. This is because customers often come into your store on a regular basis to purchase their favorite items. Over time, these customers will get to know you and they will appreciate the personal touch that you offer at your store. This is a great way to build customer loyalty and keep people coming back to your business again and again.
Starting a delicatessen can be a great way to enter the food industry. There are many advantages to owning this type of business, including the ability to be creative with your menu, offer healthy options for your customers, and build relationships with people in your community. If you are thinking about starting a food business, then opening up a delicatessen could be the perfect option for you.
---
How do I start a Deli?
So you want to start a deli. That's a great idea! The deli industry is currently worth $21 billion, and it's projected to grow at a rate of 2.7% over the next five years. Plus, who doesn't love a good sandwich? If you're thinking about starting a deli, then this step-by-step guide is for you.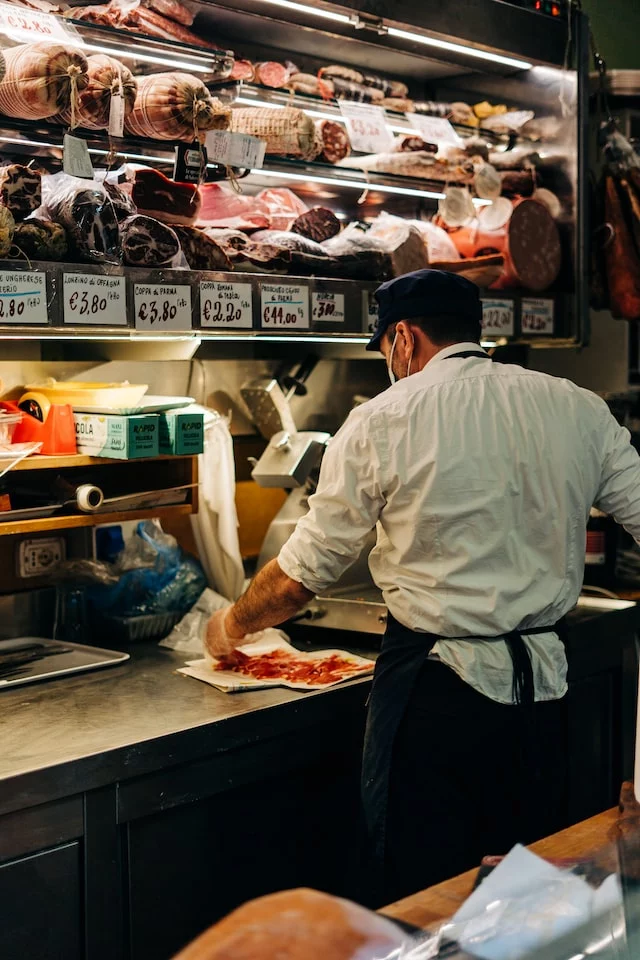 Determine Your Niche
Before you can open your deli, you need to determine your niche. Who are your customers going to be? What kind of foods do they like to eat? Are you going to focus on healthy options, or will you offer a mix of healthy and indulgent choices? Once you know who your target customer is, you can start planning your menu. Will you offer breakfast, lunch, and dinner? What kind of sandwiches, salads, and soups will you serve? What about sides, drinks, and desserts? By taking the time to determine your niche and plan your menu accordingly, you'll be well on your way to opening a successful deli.
Create a Business Plan
Before you start your deli business, you will need to create a business plan. This document will outline your business goals, strategies, and potential financials. It is essential to have a clear and concise plan in place before you start your business, as it will help you to stay on track and make informed decisions. When creating your business plan, be sure to include the following sections:
Executive Summary: This section should provide an overview of your business, including your mission statement and key goals.
Market Analysis: In this section, you will need to research your target market and competitors. This information will help you to identify your niche and develop marketing strategies that will appeal to your target customers.
Business Structure: This section will outline the legal structure of your business, as well as any partners or investors.
Management and Employees: In this section, you will need to describe your management team and their qualifications. You should also detail your plans for staffing and training employees.
Financial projections: This final section of your business plan should include detailed financial projections for your first year of operation. Be sure to include information on startup costs, operating expenses, revenue streams, and expected profits. By taking the time to create a comprehensive business plan, you can increase your chances of success when starting your deli business.
Find the Perfect Location
Before opening a deli, it is important to choose the right location. The perfect spot will have high foot traffic, plenty of parking, and a visible sign. It should also be in a safe area with a good reputation.
Additionally, the rent should be affordable and the space should be the right size for your needs. Once you have found a few potential locations, it is important to do your research and ask around before making a final decision. Ultimately, choosing the right location for your deli can make all the difference in its success.
Get the Necessary Permits and Licenses
Before you can open your new deli, there are a few important things you need to take care of first. One of the most important is making sure you have all the necessary permits and licenses.
Depending on your location, this might include a business license, a food establishment license, and a permit to sell alcohol. You'll also need to make sure your kitchen meets all the relevant health and safety regulations. Once you have taken care of all the paperwork, you can focus on stocking your shelves and getting ready to serve your first customers.
Purchase Your Restaurant Equipment and Supplies
Before you can open your doors to customers, you'll need to outfit your restaurant with all the necessary equipment and supplies. While the specific items you'll need will vary depending on the type of food you'll be serving, there are some basics that all restaurants will require.
For example, you'll need commercial-grade kitchen appliances like ovens, ranges, refrigerators, and freezers. You'll also need a variety of smallware items like pots, pans, and utensils. Of course, you'll need plates, bowls, and silverware for your diners to use. In addition, don't forget to stock up on essential supplies like paper towels, toilet paper, garbage bags, and cleaning products. By taking care of all these details in advance, you'll be one step closer to opening your doors for business.
Hire a Great Team
Opening a deli is a lot of work. Not only do you need to find the perfect location and design the space to attract customers, but you also need to create a menu that will tantalize taste buds and staff the shop with a team that can make it all happen.
When it comes to staffing your deli, it's important to hire people with the right mix of skills and personalities. Look for employees who are passionate about food and customer service and who are excited to work together as a team. With the right people in place, you'll be on your way to running a successful deli that will have customers coming back again and again.
Promote Your Deli
Starting a deli can be a great way to turn your love of food into a successful business. However, before you open your doors, it's important to take some time to promote your deli. One of the best ways to do this is by word-of-mouth. Talk to your friends and family about your plans, and be sure to mention your deli when you're out and about. You can also use social media to spread the word.
Create a profile for your deli on popular platforms like Facebook and Instagram, and use relevant hashtags to reach a wider audience. In addition, don't forget the power of traditional advertising. Distribute flyers in local businesses, and place ads in local newspapers and magazines. By taking the time to promote your deli, you'll increase your chances of success.
Starting a deli is no small feat, but it's certainly achievable if you're willing to put in the hard work. By following these simple steps, you'll be well on your way to becoming the next big name in sandwiches!
---
How much does it cost to start a Deli business?
So, you want to open a deli. Great news! Delis are a fantastic way to be your own boss, set your own hours, and serve up some delicious food to boot. But before you can start doling out the sandwich staples, there are a few things you need to take care of first—namely, coming up with the startup capital. Keep reading to find out more about how much it costs to start a deli business.
One of the most important things to consider when starting any business is the cost of doing so. While the amount of money you'll need to get your deli off the ground will vary depending on factors like location and whether you're leasing or buying a space, there are some general ballpark figures you can keep in mind as you plan your budget.
Generally speaking, you can expect to need between $50,000 and $100,000 in order to get your deli business up and running. This includes everything from the cost of leases or mortgage payments on a commercial space to the price of cold cases and other necessary restaurant equipment. If you're looking to open a more upscale establishment, on the higher end of this spectrum may be closer to what you'll need in order to make your vision a reality.
Of course, one way to offset some of these costs is by securing small business loans or finding investors who believe in your deli dream as much as you do. There are also a number of grant programs available specifically for restaurateurs which may be able to help with some of the costs associated with opening a new deli business.
Opening a deli is an exciting proposition but it's important to go into it with your eyes wide open—that means knowing how much it's going to cost you. On average, you can expect to need between $50,000 and $100,000 in order to get everything up and running. This includes factors like commercial lease or mortgage payments as well as purchasing restaurant equipment like cold cases. Of course, there are ways to offset some of these costs like taking out small business loans or finding investors but it's important that you understand what you're getting into before taking the plunge. Bon appetit!
---
How do I find customers for my Deli?
Starting a deli can be a daunting task. You need to find the right location, lease or buy the property, set up the kitchen and serving line, and then find customers to come in and enjoy your delicious food! While it may seem like a lot of work, don't worry – we're here to help. In this section, we'll give you some tips on how to market your deli and bring in hungry customers. So read on for all the information you need to get started!
Identify Your Niche
Starting a deli can be a delicious way to become your own boss, but it's not as simple as just hanging a sandwich board sign outside your door. To be successful, you'll need to identify your niche and find the right customers. The good news is that there are lots of options for specialized delis, so you should be able to find a niche that fits your skills and interests.
For example, if you're a certified cheesehead, you could open a Wisconsin-themed deli featuring local cheeses and sausages. Or, if you're passionate about healthy eating, you could focus on fresh, made-to-order salads and wraps. Whatever direction you choose, make sure you do your research and target your marketing efforts accordingly. With a little effort, you'll be slinging sandwiches in no time.
Advertise in Local Publications
When trying to bring in new customers to your deli, one method that can be effective is advertising in local publications. This will ensure that your target audience sees your ad, as opposed to ads in national publications which can be costly and may not reach as many potential customers.
When placing an ad in a local publication, make sure to include information such as your location, hours of operation, and a list of some of the products or dishes you offer. You may also want to include a promotional code or special offer to encourage people to try out your deli. By taking advantage of local publications, you can reach a wider audience and bring in new customers who are looking for a great deli experience.
Provide Discounts to Employees of Local Businesses
Are you looking for new customers for your deli? Why not try providing discounts to employees of local businesses? This is a great way to reach out to new potential customers and show them what your deli has to offer. employees of local businesses are always looking for places to eat lunch, and if you can provide them with a discount, they will be more likely to come to your deli.
Furthermore, providing discounts to employees of local businesses shows that you are invested in the community and care about supporting local businesses. This can help to build goodwill and word-of-mouth marketing for your deli. So if you're looking for new customers, don't forget about the employees of local businesses. A little discount can go a long way.
Give Out Coupons
When you start a deli, you want to get the word out to as many people as possible so they will come in and try your food. One way to do this is by giving out coupons. You can put them in newspapers, hand them out on the street, or leave them in local businesses.
Make sure your coupon offers a good deal, such as a free sandwich with the purchase of a drink, so that people are tempted to use it. You can also offer a discount for people who bring in the coupon. Once people start using your coupons, they will likely become regular customers if they enjoy your food. Therefore, giving out coupons is a great way to find new customers for your deli.
Build a Robust Online Presence
A robust online presence for your deli can find you customers from all around the internet. Building a website for your deli is a key first step – this will be a hub for all of your online activity, and potential customers will be able to learn about your business here.
You should also create social media accounts on platforms like Facebook, Twitter, and Instagram. Post engaging content regularly, and interact with users to build up a following.
Additionally, make sure to list your business on Yelp, Google My Business, and other web directories. By taking these steps, you'll ensure that potential customers can easily find your deli online.
Create a Customer Loyalty Program
Delis are a dime a dozen, so how can you make yours stand out? A great way to distinguish your deli and draw in customers is to create a customer loyalty program. This will give people an incentive to come back to your deli again and again. Here's how to get started:
First, decide what kind of loyalty program you want to create. There are many different options out there, so take some time to research what would work best for your deli. Once you've settled on a program, startpromoting it! Let your customers know about the program and how they can sign up. You can promote it through social media, advertising, or even by putting up signs in your store. Finally, make sure you're delivering on the promises of your loyalty program. If you say you'll give discounts to loyalty members, make sure you do! This will help keep people coming back.
A customer loyalty program is a great way to differentiate your deli and attract customers. By following these tips, you can create a successful program that will bring people back again and again.