If you're interested in starting your own business, a vending machines business could be a great option. With minimal startup costs and the potential for high profits, a vending machines business can be a great way to achieve your entrepreneurial dreams.
In this complete guide, we'll cover everything you need to know about starting a vending machines business, from choosing the right machines to stocking and servicing them. We'll also provide some top tips for making your business a success. So if you're ready to start your own vending machines business, read on!
Table of Contents
---
What is a Vending Machines business?
The vending machine business involves purchasing and placing vending machines in locations with high foot traffic, such as offices, malls, schools, and airports. These machines are stocked with a variety of items that customers can purchase, including snacks, drinks, and any other type of goods that can fit in the vending machine.
Vending machines often generate passive income for the owners, as they require minimal maintenance and can operate 24/7 without the need for staff. However, finding profitable locations and maintaining a diverse inventory are crucial to success in this industry.
Despite these challenges, vending machines have become a popular option for entrepreneurs looking to start their own business or supplement their current income. In fact, vending machine revenues reached a record high of $22.4 billion in 2018. As more consumers seek convenient purchasing options, the vending machine business remains viable and profitable.
---
Why would I want to start a Vending Machines business?
More and more people are supplementing their income or quitting their day job to start their own business. And with technology making it easier than ever to get started, there's no shortage of options for those looking to strike out on their own. But why start a vending machines business? Here are four reasons that might just persuade you.
It's a recession-proof business model.
In good times or bad, people still need to eat—and that means your vending machines will always be in demand. What's more, starting a vending machines business requires very little overhead, which means you can keep your costs low and your profits high.
You're in control of your own destiny.
When you start your own business, you're the boss—which means you get to make all the decisions. That can be a lot of pressure, but it also means you get to call the shots and reap the rewards of your hard work.
You can be as hands-on or hands-off as you like.
One of the great things about owning a vending machines business is that you can choose how involved you want to be. If you want to be hands-on, you can stock and maintain the machines yourself. Or if you'd prefer to be more hands-off, you can hire someone to do it for you. The choice is yours!
It's a scalable business model.
If your vending machines business is successful, there's no reason you can't expand by adding more machines or even franchise out to other entrepreneurs who want to get in on the action. The sky's the limit!
There are plenty of reasons to start your own business— but why start a vending machines business? With a low overhead and high potential for profit, it's a scalable and recession-proof option that puts you in control of your own destiny. So what are you waiting for? Get started today!
---
How do I start a Vending Machines business?
So, you want to be in the vending machines business? It's a great industry to be in – it's stable, there's always demand for products, and it can be quite profitable. Plus, it's a relatively simple business to get started. In this section, we'll walk you through everything you need to do to get your vending machines business up and running.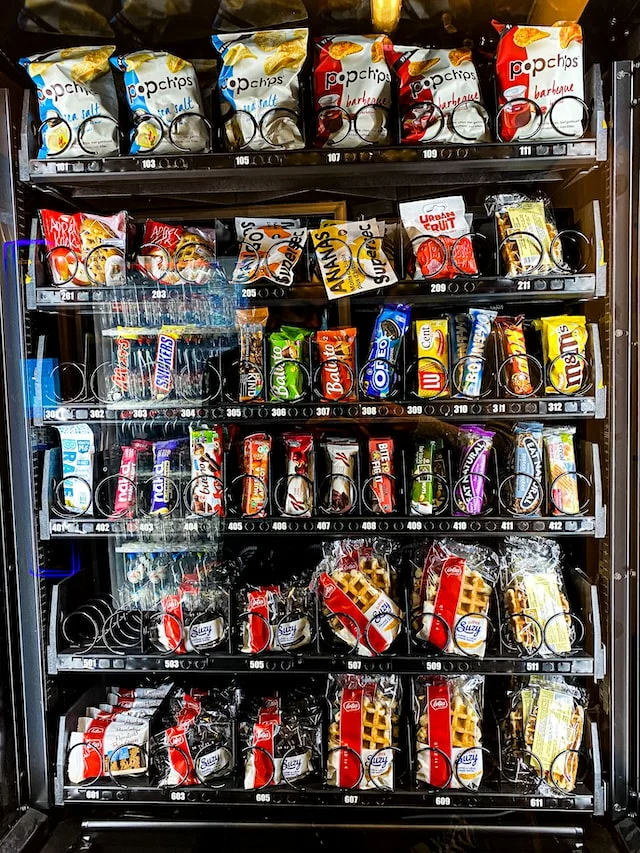 Write a business plan
This is an important first step for any new business venture. Your business plan will include an overview of your business, your goals, and your financial projections. Knowing what you want to achieve with your vending machines business will help you make decisions down the road.
Research the vending machines industry
Once you have a general idea of what you want to do, it's time to start learning about the industry. What types of vending machines are out there? What do they sell? Where are they typically located? How much do they cost? Asking yourself these questions will help you zero in on the right type of vending machines for your business.
Choose a niche market
The vending machines industry is huge – there are all sorts of businesses that operate vending machines, from large corporations to small mom-and-pop shops. To be successful, you'll need to choose a niche market and focus on servicing that market well. By catering to a specific type of customer, you'll be able to better compete against the big players in the industry.
Find a location for your vending machines
Once you know what type of vending machines you want to sell and who your target market is, it's time to start looking for locations for your machines. The best locations for vending machines are high-traffic areas with lots of foot traffic – think malls, airports, office buildings, etc. Avoid locations where competition is fierce or where foot traffic is light (such as residential neighborhoods). Discover 40+ locations to place your vending machines in.
Fill your vending machines with products that will sell!
This seems like an obvious step, but it's one that many new vendors forget. Make sure to stock your machines with products that people actually want to buy – otherwise, you'll just be wasting space and not making any money!
Popular items include candy bars, soft drinks, chips, snacks, etc. Avoid perishable items or anything that needs to be kept at a specific temperature (such as ice cream).
Maintain and service your machines regularly
Once your vending machines are up and running, it's important to maintain them properly. This means regularly cleaning them, restocking them, and fixing any mechanical issues that may arise. Neglecting your machines will only lead to problems down the road.
Promote your business
Last but not least, don't forget to promote your new venture! Let people know that you're in the vending machine business and where they can find your machines. You can promote your business through advertising, social media, or even just by putting up flyers in high-traffic areas near your machine locations.
The more people know about your business, the more successful it will be!
Starting a vending machine business is a great way to become your own boss! By following these simple steps, you can get your business up and running in no time. Just remember to choose the right location for your machines, stock them with popular items, keep them clean and well-maintained, and promote your business diligently. With hard work and dedication, owning a vending machine business can be very rewarding!
---
How much does it cost to start a Vending Machines business?
A vending machine business is a great way to be your own boss and earn extra income. But how much does it cost to start a vending machines business? The answer may surprise you! With a minimal amount of start-up capital, you can be in business in no time.
The Cost of Starting a Vending Machine Business
The cost of starting a vending machine business can vary depending on the type and number of machines you purchase, as well as the location of your machines. For example, used machines will be less expensive than new machines, and placing machines in high-traffic areas will likely cost more than placing them in lower-traffic areas.
That said, you can expect to spend anywhere from $1,000 to $10,000 on your vending machine business start-up costs. Of course, if you're looking to start a large-scale operation with dozens or even hundreds of machines, your start-up costs will be correspondingly higher.
How to Reduce the Cost of Starting a Vending Machine Business
If you're concerned about the cost of starting a vending machine business, there are several ways you can reduce your start-up costs. One option is to purchase used vending machines. You can find good quality used machines online or through local classified ads. Another option is to lease your machines instead of purchasing them outright. This can help spread out the cost of your investment over time and make it easier for you to get started in the vending machine business.
Starting a vending machine business is a great way to be your own boss and earn extra income. And with minimal start-up costs, it's an affordable option for many entrepreneurs. So if you're wondering how much it costs to start a vending machine business, now you know! With careful planning and some research, you can get started in this exciting industry for less than you might think.
---
How do I find customers for my Vending Machines business?
In a previous post, we talked about how to start a vending machines business. In this post, we're going to talk about how to find customers for your new business.
If you're starting a vending machines business, it's important to think about where your potential customers are and how you can reach them. You'll need to have a strong marketing strategy to attract customers and get them interested in using your services. Keep reading for some tips on finding customers for your vending machines business.
Start by Identifying Your Target Market
When starting a vending machine business, it's important to have a clear understanding of who your target market is. Before investing in equipment and placement, take some time to research which businesses are most likely to be receptive to having a vending machine on their premises. Look for high foot traffic locations such as offices, gyms, schools, and retail stores as potential opportunities.
Consider the types of products they may want or need – healthy snacks for gyms or offices with wellness initiatives, convenient lunch options for busy offices or college campuses, or impulse buys like candy and chips for retail stores. Once you have identified your target market, carefully analyze their needs and tailor your selection accordingly. Taking the time to clearly define your target market can help set your vending machine business up for success.
Get Listed in Local Directories
Are you a vending machine business owner looking to expand your reach and increase profits? One simple step that often gets overlooked is listing your business in local directories. By getting in front of potential customers, you can find new places to place your machines and grow your business. Not sure where to start? Ask around for popular online and print directories in your area, or search for "vending machine directory [your city]." It's important to reach out to a variety of sources – from local newspapers to niche industry directories – as each one may have a different audience and unique opportunities.
Don't forget the power of word-of-mouth marketing, too – ask current customers if they know of any businesses that could benefit from having a vending machine on their premises. By taking a little time to get listed in these directories, you can open up a world of potential partnerships and increase profits for your vending machine business.
Attend Trade Shows and Events
For those in the vending machine industry, trade shows and events can be a valuable resource for finding potential business partners. These events bring together a diverse range of companies, giving you access to a variety of potential clients in one place. In addition, attending these events allows you to network with others in the industry and learn about new trends and developments.
When attending a trade show or event, it's important to come prepared with materials such as business cards, promotional flyers, and product samples. This will make it easy for interested parties to contact you and learn more about your offerings. By using trade shows and events as an avenue for finding businesses to place your machines in, you'll be able to expand your reach and increase your success in the industry.
Knock on Business Doors
One of the most effective ways to increase the placement of your machines is to knock on businesses' doors and introduce your product. This direct approach gives you the opportunity to show business owners the benefits of having your machine in their establishment. Not only does it make their customers' lives easier, but it also generates passive income for the business.
Plus, with your sales pitch tailored specifically for each business, it can highlight how your machine meets their unique needs and offers potential customers something that sets them apart from their competitors. So next time you're looking to expand placements for your machines, try knocking on some doors and showing business owners the value that your product can bring to their establishment.