Are you looking for a business opportunity that is fun, profitable, and low-maintenance? A mobile car wash could be the perfect solution for you! In this guide, we will walk you through everything you need to know to get started. So what are you waiting for? Start your own mobile car wash today!
Table of Contents
---
What is a Mobile Car Wash business?
A Mobile Car Wash business is a service-based industry that focuses on providing car detailing services and washing vehicles while they remain mobile. Unlike traditional car washes, a mobile car wash brings the service to the customer, allowing them to get their car washed without ever having to leave home. Additionally, many mobile car wash businesses offer additional services beyond basic cleaning and polishing. These additional services may include clay bar treatments, waxing and special sealants for paint protection or decontamination using high pressure cleaning systems. Mobile Car Washers must be knowledgeable of the newest cleaning technologies in order to provide an effective service and keep customers satisfied.
---
Why would I want to start a Mobile Car Wash business?
Starting a business is no small feat. It takes dedication, hard work, and often a willingness to think outside the box. If you're looking to start a business that requires minimal overhead and has great potential for growth, mobile car wash businesses may be the perfect fit. Let's explore why starting a mobile car wash is so attractive to entrepreneurs.
The Benefits of Mobile Washing
One of the main reasons why mobile car washing is so popular is because it doesn't require a large investment in equipment, materials, or facilities. All that is necessary to get started are basic supplies such as sponges, buckets, soap, and water. Additionally, there are no office space costs associated with running this type of business since you will be operating out of your vehicle or trailer.
Another added benefit to mobile car washing is that you can set your own hours and customize your services depending on what customers need. For example, if someone just needs their tires cleaned or their windows washed, you can provide those services without having to do a full-service wash. You can also offer additional services like waxing or detailing for an extra fee if desired.
Finally, one of the major advantages to owning a mobile car wash business is scalability; as long as there are vehicles needing cleaning in your area, there is potential for growth and success! With proper marketing techniques such as word-of-mouth and online ads, you can grow your customer base quickly and efficiently without spending too much money on advertising costs.
Starting up a mobile car washing business offers plenty of benefits compared to other types of businesses; low start-up costs coupled with high potential returns make it an attractive option for entrepreneurs who are willing to put in the work required for success. Furthermore, with proper planning and marketing strategies in place you can quickly build up your customer base while also carving out space in the industry. So if you've been contemplating starting up your own business but don't know where to begin – look into launching a mobile car wash today!
---
How do I start a Mobile Car Wash business?
Are you looking for a business opportunity that allows you to be your own boss? A mobile car wash may be the perfect business for you! This business is perfect for those who are looking for a low-cost startup and minimal overhead. Keep reading to learn more about how to start a mobile car wash!
Define Your Niche
Deciding to start your own business is a big decision. Once you've made the decision to become an entrepreneur, you'll need to choose which business is right for you.
When it comes to starting a mobile car wash business, one of the most important factors is deciding on your niche. What type of car wash do you want to offer? Are you going to focus on luxury cars, or will you cater to a more budget-conscious crowd? Knowing your niche will help you determine everything from your pricing strategy to your target market.
It's also important to consider your competition. Who else is offering mobile car washing services in your area? What are they doing well, and what could you do differently? By taking the time to define your niche, you'll be one step closer to starting a successful mobile car wash business.
Create a Business Plan
A mobile car wash business is a great way to earn extra income or even start your own business. However, before you start washing cars, you need to create a business plan. This plan will help you determine your start-up costs, marketing strategy, and financial projections.
To get started, research the average cost of starting a mobile car wash business in your area. Then, create a budget that includes the cost of equipment, supplies, and advertising. Next, develop a marketing plan that includes discounts and promotions to attract customers.
Finally, create financial projections for the first year of business. By creating a comprehensive business plan, you can ensure that your mobile car wash business is successful from the start.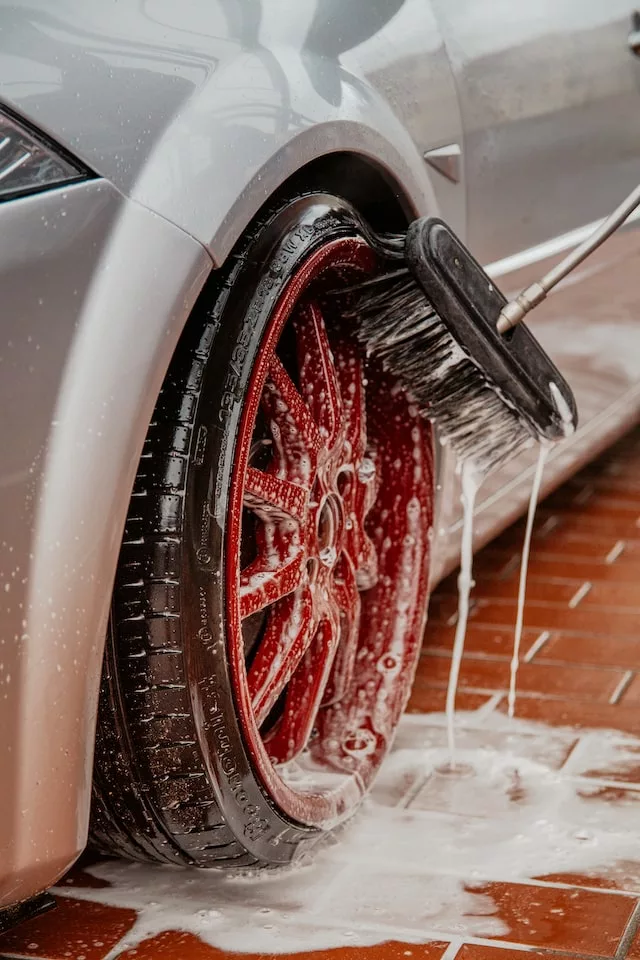 Find Funding for Your Business
Before you start a mobile car wash business, it's important to find the funding you'll need to get started. There are a few different ways to do this. One option is to take out a small business loan.
Another option is to look for investors who are willing to provide seed money for your business. You can also use personal savings or take out a home equity loan.
Whichever option you choose, be sure to shop around for the best terms and interest rates. You can also look into government grants that may be available to help you get your business off the ground.
Once you've found the funding you need, you can start planning your mobile car wash business. Be sure to develop a detailed business plan and marketing strategy. You'll also need to purchase the right equipment and supplies, and find a good location for your business.
With some hard work and dedication, you can turn your mobile car wash business into a success.
Get the Necessary Permits and Registrations
Before opening a mobile car wash business, it is important to obtain the necessary permits and registrations. First, check with your local zoning office to see if there are any restrictions on where you can operate your business. Next, obtain a business license from your city or county clerk's office. In addition, you will need to register your business with the state in which you plan to operate.
Finally, be sure to purchase insurance that will protect your business in case of liability claims. By taking these important steps, you can ensure that your mobile car wash business is compliant with all local, state, and federal regulations.
Get the Required Equipment
Before starting a mobile car wash business, there is some essential equipment you will need.
First, you will need a reliable vehicle that is large enough to hold all of your equipment. Secondly, you will need a water tank and a pressure washer. The water tank will be used to store fresh water for washing cars, and the pressure washer will be used to power the mobile car wash unit.
Thirdly, you will need a generator to provide electricity for the pressure washer and other equipment. Fourthly, you will need an air compressor to power the air dryer. Lastly, you will need a supply of car shampoo, towels, and sponges. With all of this equipment, you will be able to start your own mobile car wash business.
Hire and Train Staff
Before you can start your mobile car wash business, you will need to hire and train staff. The first step is to find employees who are passionate about cars and willing to work hard. You can post ads on online job boards or reach out to local auto shops and dealerships.
Once you have a few candidates, be sure to conduct thorough interviews and background checks. Once you have hired your team, the next step is to provide training. You will need to teach your employees how to safely operate the equipment and properly clean a car. You will also need to establish procedures for dealing with customers.
By taking the time to hire and train quality staff, you will set your business up for success.
Market Your Business
One of the smartest things you can do when starting a mobile car wash business is to market your business. There are a number of ways to market your business, but one of the most effective is to target a specific niche. When you target a specific niche, you can create a marketing campaign that is specifically designed to appeal to that group of people.
For example, if you are targeting car enthusiasts, you might want to consider running ads in car magazines or on websites that cater to that audience. You can also use social media to reach out to potential customers in your target market.
In addition to targeting a specific niche, it is also important to make sure that your marketing campaign is attention-grabbing and engaging. After all, you want potential customers to remember your business when they are ready to have their cars washed.
By taking the time to create an effective marketing campaign, you will increase your chances of success when starting a mobile car wash business.
---
How much does it cost to start a Mobile Car Wash business?
If you are looking to start your own business, then a mobile car wash business may be the perfect fit for you. Mobile car washes offer convenience and flexibility to customers, who can get their cars washed without having to leave their driveway. But before you can start offering services, there are certain costs associated with starting up a mobile car wash. Let's take a look at some of the most important factors that need to be considered when estimating the cost of launching a mobile car wash business.
Initial Investment Costs
The first cost that needs to be taken into account is the initial investment costs. This includes the cost of purchasing or leasing a vehicle, such as an SUV or van, that will be used as your mobile car wash service vehicle. You will also need to purchase any equipment necessary for providing services, such as pressure washers and soaps, as well as any additional tools needed for detailing services. It is important to research all available options in order to get the best value for your money.
Marketing and Advertising Costs
Once you have all of your equipment purchased and ready to go, it's time to turn your attention towards marketing and advertising costs. Having an effective marketing strategy is essential for any new business venture, especially one like this where word-of-mouth referrals are key. Investing in website design and local advertising campaigns can help bring attention to your business. Additionally, it's important to budget for printing flyers and other materials that will showcase your services and prices in order to attract new customers.
Ongoing Expenses
Finally, ongoing expenses should also be taken into consideration when determining the costs associated with starting up a mobile car wash business. These expenses include things like customer service fees (for example, if you offer subscription packages), insurance premiums (which vary depending on location), fuel costs (which can add up quickly!), and maintenance/repair costs for keeping your vehicle running smoothly over time.
Starting up a mobile car wash business requires careful planning in order to ensure success down the road. There are several factors that must be taken into account when determining the total cost of startup – from initial investment costs through ongoing expenses – but by doing your research and carefully budgeting accordingly, you can ensure that you have everything necessary for launching a successful business venture! With some dedication and hard work, you could soon be enjoying all of the rewards that come along with owning your own small business!
---
How do I find customers for my Mobile Car Wash business?
Are you ready to launch your mobile car washing business? It's a great way to make extra money using the resources and equipment you have. Plus, having a mobile car wash is so convenient since it eliminates the need for customers to take their vehicles anywhere else! But before you start dreaming of washing away profits – don't forget that first step which is finding customers for your new endeavor. You can't be successful without loyal customers and a strong customer base – so let's dig into ways to find them. In this section, we'll cover surefire strategies that will get people lining up at your door (or driveway) in no time!
Define Your Target Market
Identifying your target market is key to achieving success with any business, and this applies to mobile car wash services too. Taking the time to define who your customers will be is important: knowing who you are trying to reach and how best to communicate with them is essential when developing a successful marketing strategy.
Your target market might include everyone from families who need their vehicle washed on a regular basis, to busy commuters who rely on your service three times a week. Business owners that need their vehicles clean for client meetings and out-of-town travellers requiring a quick on-the-go service are also excellent potential customers for a mobile car wash business.
Knowing who you are targeting will help inform many aspects of running your business from price points and promotion strategies, through to product lines, customer service standards and opening hours.
Create a Marketing Plan
Developing a comprehensive marketing plan for a mobile car washing service is essential for building customer loyalty and ensuring long-term success. In order to secure customers, businesses need to create visibility in the marketplace through consistent exposure of their service.
Online and offline efforts can be combined to position products or services as the preferred choice in mindshare among current and prospective customers. For example, utilizing both digital advertising and traditional media options such as flyers and posters will reach diverse target markets; in addition, participation in local community events such as fairs or festivals can provide an opportunity to showcase your product with more personal engagement.
Offering referral discounts or specials is another excellent way to capture new business while generating word-of-mouth buzz that can bring further referrals.
Finally, focus on developing social proof by encouraging reviews or testimonials from past customers online to fuel organic growth.
Assembling the pieces of a successful marketing plan is an achievable goal that can open up new opportunities for a thriving business.
Build a Web Presence
Building a web presence for your mobile car wash business is essential in staying competitive in today's market. Start by creating a website which should include information about the services you provide, pictures, customer testimonials, and contact information.
Social media can also be used to reach potential customers; create pages on all major social media sites and post frequent updates with images that show off your services. You can also use targeted advertising that directs people to your page or website; with careful targeting of an audience, this type of advertising can be effective and very affordable.
Making sure everything looks professional on the web will give potential customers confidence in your business, so go the extra mile when designing your site or pages. Investing time and effort into creating a solid web presence for your mobile car wash business will help bring customers through the door!
Use Organic and Paid Social Media
Utilizing organic and paid social media to find customers for your mobile car wash business can be a great way to advertise what you are doing and reach people who may not have otherwise heard about you. Paid social media ads can help spread your message, but organic posts that involve conversations with potential customers or images from delighted customers are an excellent way to gain visibility.
As the mobile car wash industry grows, having a presence on social media is critical for success. Don't forget to include a link to your website or contact information in all of your posts and use every possible opportunity to engage with potential customers.
Advertise in Local Publications
As an entrepreneur in the mobile car wash industry, advertising your services in local publications can be a very effective way to reach potential customers. Local newspapers, magazines, and even radio station morning show plugs are all excellent resources for sharing what type of service you provide and how it could benefit a customer.
Consider constructing your message with appealing visuals that showcase the quality of your work along with helpful information such as hours of operation, contact information, and an overview of exactly what services you offer.
Once you begin reaching out to customers through these publications and outlets, remember to have the same level of professionalism that was present when creating the ads – this will help increase your chances of repeat business!
Network with Local Businesses
Networking with local businesses can be a great way to build your customer base for a mobile car wash business. Building meaningful relationships with business owners in the community allows you to tap into their existing customer base and reach potential customers that may not have heard of the services you offer.
Start by reaching out to the businesses around you and asking if they would be willing to refer your services for any future clients that need a car wash. Offer a referral incentive, like a discount or free service, as this helps make it more beneficial for them to refer your services.
Make sure to keep in contact with these businesses and make sure that they are regularly updated on any offers or promotions that your company is running so they can spread the word amongst their customers.
Doing this will ensure that your business is top of mind when people are thinking about where to get their next car wash done!
Bring Your Business to Local Events and Festivals
If you own a mobile car wash business and are looking for ways to increase customers, then setting up an informational booth or demonstration stand at a local event or festival is one of the best strategies you can make use of. At these types of events, people from all around the area come out and you can get your name out there with very minimal expense.
To help attract customers, prepare some posters with your services and prices, handing out flyers to those who come by and interact with attendees to learn more about their needs when it comes to washing cars. Keep in mind that how you deliver your message will largely impact how effective it is in helping you garner their attention – be sure to present yourself in a friendly yet professional manner.
As your promotional materials circulate, more individuals will become aware of your mobile car wash business and soon, hopefully, begin taking advantage of your services.
Get Listed in Online Directories
Getting listed in online directories can be an effective way to find new customers for your mobile car wash business.
Listing the services you offer, where you are located, and other key information is important to ensure that customers are able to find you easily and make a decision on if they would like to use your services. It is also important to use keywords to ensure that when people are searching for these services, they are able to find you.
Additionally, utilizing as many of the major directories as possible can help you spread out your reach and make sure more potential customers will see you. Making sure all internet users have an easy time finding your business can put it in front of more customers and increase your success.
Offer Coupons and Discounts
Offering coupons and discounts is a great way to attract customers to try out your mobile car wash business. Start by designing an effective promotion strategy that speaks to your target demographic. Consider offering discounts in exchange for referrals – this could help you reach a wider audience.
Also, think outside the box with special promotions and coupon offers that only apply at certain times of the day or specific days of the week. Finally, be sure to advertise your offerings across multiple platforms such as mailings, text messaging, email blasts and social media posts.
This will help ensure that you reach potential customers in the most efficient manner possible!