Are you looking for an exciting, profitable business venture to take on this holiday season? Don't look any further! Starting your own Christmas tree lot can be a great investment of both time and money that will surely bring success and satisfaction. Not only is it rewarding, but also helps you become part of the holiday spirit by bringing joy to homes around the area. And don't worry – if you've never done it before, we got you covered with our ultimate guide to starting a Christmas tree lot! Discover everything from deciding where to set up shop, sourcing your trees responsibly, marketing the business effectively, pricing them competitively and more. So enjoy this journey as we help equip you with all that knowledge needed to get started today!
Table of Contents
---
What is a Christmas Tree Lot?
Christmas tree lots are an iconic holiday tradition for many families. These spaces are lots filled with freshly cut Christmas trees that parents, grandparents, and children can select together to gradually decorate the home until Christmas Day. Much like visiting your local nursery, people may visit a Christmas tree lot to buy their perfect fir or pine tree. Some vendors even provide assistance such as netting the tree and providing free balsam wreaths or pine garlands. Some lots offer additional items such as stands, water preserving additives, ornaments, and lights that bring your festive Christmas spirit full circle. For many households around the world, visiting a Christmas tree lot is a treasured adventure of the holiday season.
---
Why would I want to start a Christmas Tree Lot?
Christmas trees are an iconic part of the holiday season, with millions of families buying and putting up trees each year. Starting a Christmas tree lot is a great way to make some extra money during the holidays, and it can be surprisingly lucrative. Here, we'll discuss why you should consider starting a Christmas tree lot this season.
Seasonal Money Maker
Starting a Christmas tree lot allows you to make money during the peak holiday season without having to work full-time hours. Because there is such a high demand for Christmas trees during this time, you can easily set up shop in your local area and start making money almost immediately. You can also charge higher prices for more premium types of trees, such as Fraser firs or white pines.
Low Start-up Costs
Another great benefit to starting a Christmas tree lot is that it doesn't require much in terms of start-up costs. All you need is some land or space to set up your lot and purchase some trees. You can even buy pre-cut trees from wholesalers so that you don't have to worry about cutting them yourself. If you already own land or have access to free land, then your start-up costs will be very low indeed!
High Profit Margins
Christmas trees are generally marked up at least 50%, which means that your profit margins are going to be quite high if you're selling them at retail price. You could potentially make hundreds or thousands in profits depending on how many trees you sell—not bad for something that only takes one day of work! Plus, if you have repeat customers who come back each year for their tree, then your profits can really add up over time.
If you're looking for an easy way to make some extra money during the holiday season, then starting a Christmas tree lot may be perfect for you! With its low start-up costs and high profit margins, setting up shop with some evergreens could put some extra cash in your pocket while giving people what they need during the festive season—a beautiful Christmas tree! So don't hesitate—start planning out your own Christmas tree lot today!
---
How do I start a Christmas Tree Lot?
If you have been toying with the idea of becoming an entrepreneur this holiday season, a Christmas tree lot might be the perfect way for you to turn your dreams into a reality. By launching your own business, you will gain the opportunity to build something from scratch — complete with all its successes and failures that come along with it — while also supporting your local community. As daunting as starting a new business may seem, beginning a Christmas tree lot is surprisingly simple! This section will provide step by step instructions so that you can kick off this venture quickly and easily.
Define Your Niche
Starting a Christmas tree lot can be a wonderful way to get into the holiday spirit and make a profit at the same time. It is important, however, to establish your niche before diving in. You need to take into consideration the target audience, neighbors, what kind of trees your competitors will be selling, as well as any zoning or health regulations that may apply to setting up a lot.
Additionally, you should think about what will draw customers to purchase their trees from your lot rather than another one. Do you plan on offering bare root trees? What kind of pricing structure do you envision? Answering these questions and more can help better define your niche and ultimately put you ahead of the competition.
Create a Business Plan
Creating a business plan for a Christmas tree lot is an essential step in realizing your vision of a profitable holiday venture. Your business plan should document the research and brainstorming you've already done, including details about where you plan to acquire trees for sale and how much you expect to charge, as well as estimated start-up costs, labor expenses and potential sources of income.
In addition, consider defining the overall strategy for your business, including setting goals and objectives, outlining an action plan and foreseeing scenarios that could cause unexpected challenges. Putting together a comprehensive business plan will help ensure you enter the market with realistic expectations as well as armed with clear strategies to tackle any obstacles that arise.
Find Funding for Your Business
Launching a Christmas tree business can be a lucrative venture during the holiday season, but without enough funds to purchase trees and pay startup costs, the business may never get off the ground. Fortunately there are several ways to source the capital your business needs.
Before seeking out investors, consider tapping into your own personal savings or seeing if you qualify for a small business loan from a local bank.
In addition to traditional lenders, discussing possible grants and other sources of funding with fellow entrepreneurs in your industry as well as contacting your state's economic development agency can be helpful in gathering information on available fund opportunities.
Lastly, crowdfunding platforms provide another way to quickly gain access to initial capital at reasonable interest rates — just make sure you research all conditions before signing any agreement. With enough preparation and research ahead of time, you'll soon have the money you need to launch a successful Christmas tree lot.
Get the Necessary Permits and Registrations
Starting a Christmas tree lot can be a fun and profitable way to make extra holiday cash, but you'll need to make sure all necessary permits and registrations have been obtained.
Start by researching local regulations in your area, such as zoning restrictions that may prohibit private businesses from operating during certain hours of the day or require specific safety measures on-site.
Secondly, determine the licensing requirements an operator must have. Depending on the state, these may include tax registration documents and other health and safety associated paperwork, such as worker's compensation coverage.
Last but not least, be prepared to possibly pay an application fee or related charges to receive approval from governmental agencies and other necessary entities. Following these steps should help ensure that you get everything in order for a successful venture.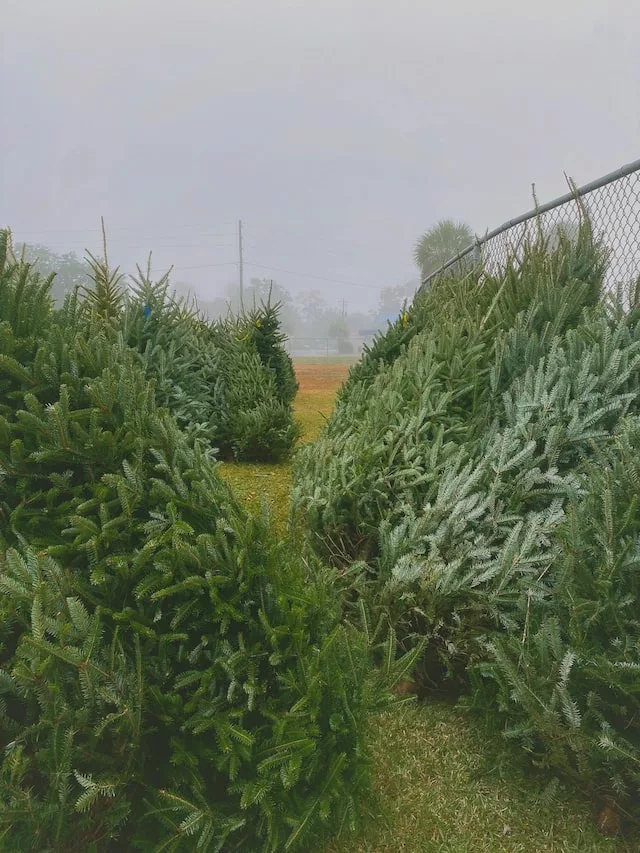 Find the Training You Need
For those looking to run a successful business as a Christmas tree lot owner, it's important to make sure you have the right training. This will give you the skills necessary to navigate the business and deliver exceptional customer service.
There are several resources available, including online courses and seminars from experienced lot owners. Make sure the program you choose covers essentials, such as selecting and dealing with suppliers, running promotions, and financial management.
With comprehensive training under your belt, running a Christmas tree lot this holiday season can be a rewarding experience!
Find Your Location
When it comes to starting a Christmas tree lot, location is key. It should be easy for customers to get to, so consider bustling shopping centers or main thoroughfares. This will ensure that you will have ample of foot and car traffic passing by every day.
Additionally, it should have access to water, power and shelter in case of inclement weather. Do your research on your local market and identify what areas have the best potential customer base for your lot. Understanding the competition in your area can also be beneficial to understanding the current landscape of Christmas Tree Lots.
Once you select your ideal location, make sure to secure all necessary permits for operating in that space. With proper preparation, you're sure to make this holiday season special for everyone!
Find a Tree Supplier
Finding the right tree supplier for your Christmas tree lot is essential and can be quite daunting. Make sure you research potential suppliers, asking questions about the types of trees they offer, quality, costs and shipping methods. You also want to ask about their return and exchange policies as well as their availability throughout the season.
Look for suppliers who are willing to negotiate on price and volume, especially at peak times like mid-December. Partnering with a local supplier can be extremely beneficial since it allows you to get a feel for their product before making a commitment.
Additionally, work to build relationships with reliable and reputable suppliers that will have your lot stocked in time for the holiday rush and won't leave you scrambling to find an alternative during busy weeks. With some research and due diligence, you'll certainly find the perfect tree supplier to start up your own Christmas tree lot this upcoming season!
Get the Required Equipment
Getting the right equipment for your Christmas tree lot is an important step for success. You'll need a place to set up, such as a vacant lot or shopping center parking area, as well as bollards, fencing, and signage. You may also consider buying Christmas decorations or creating your own displays to attract customers.
For carrying and displaying Christmas trees on the lot, you should have tree spacers, wheelbarrows, saws, measuring sticks and stands to elevate the trees off the ground. If you'll be delivering trees as well, invest in trucks or vans that can accommodate large quantities of trees.
Once you have all these in place and safety considerations taken care of (such as making sure no loose wires are around), you can start selling your beautiful Christmas trees!
Hire and Train Staff
Starting a Christmas tree lot is a great way to get into the holiday spirit each year, but it takes some planning and hard work to ensure the process runs smoothly.
Before you begin selling trees, you'll need to hire and train staff so that your team is prepared for this holiday enterprise. When selecting staff, consider their experience with physical labor since they will need to move and manage tree stands. You'll also want them to be able to learn quickly, as there are a few processes they'll need to understand such as interacting with customers and collecting payment on time.
Lastly, be sure your team is excited about the holidays and festive task at hand – nothing creates a better atmosphere than enthusiasm! After assembling your staff, you can move onto training. Start by reviewing the tasks related to running a Christmas tree lot, making sure everyone is clear on their responsibilities and has an understanding of the processes involved in keeping things running smoothly.
Remember that creating an effective team requires dedication from everyone involved, but the rewards of helping others find joy in finding their perfect Christmas Tree at your lot makes it all worth it!
Market Your Business
For entrepreneurs looking to start a Christmas tree lot, one of the most important steps is mastering your marketing strategy.
From traditional print ads to digital tactics like email campaigns or social media, there are many opportunities in which you can advertise your business and make sure potential customers have heard about your lot.
Researching and targeting your desired demographic is essential so that you know exactly what tactics will be most effective in helping to reach them. You should also look into utilizing search engine optimization (SEO) methods so that customers who are actively searching for a Christmas tree lot in their area can easily find yours at the top of their search results.
With the right mix of efforts, you can successfully create a successful holiday season with increased sales and brand recognition all season long.
---
How much does it cost to start a Christmas Tree Lot?
Thinking of starting a Christmas tree lot business this holiday season? It may be a great way to make some extra money during the holidays, but it's important to know the costs of setting up shop before you dive in. Here's what you need to know about the costs associated with running a Christmas tree lot.
Initial Equipment Costs
Starting any business requires initial investments in equipment. If you plan on selling pre-cut trees, you will need saws for cutting down and trimming trees, as well as an area where customers can purchase their trees. You will also need stands for displaying them and lights for decoration. For those who plan on selling trees that are already cut down and ready to go, you will need tools such as rakes, shovels, and bales of hay for decoration. You should factor these costs into your budget when deciding if starting a Christmas tree lot is right for you.
Rent/Lease Costs
One of the biggest costs associated with starting a Christmas tree lot is renting or leasing space to set up shop. Depending on where your shop is located, this cost can vary greatly. Consider factors such as foot traffic, visibility from the road and nearby businesses when choosing your space so that people can easily find your lot while out shopping this holiday season.
Marketing Costs
You will also have to consider marketing costs when creating a budget for your new business venture. This includes anything from creating promotional flyers or hiring someone to create banners or signs that advertise your new business (and how much it costs). Don't forget about online marketing either; social media sites are great tools for reaching customers who may not see traditional advertising methods like flyers or banners in their local area.
Starting a Christmas tree lot business is no small task and there are many factors to consider when creating your budget for the season. Be sure to account for initial equipment costs such as saws and stands, rental/lease costs associated with setting up shop in an ideal location, and marketing expenses that help spread the word about your new business venture. With careful planning, however, running a successful Christmas tree lot can be lucrative and enjoyable!
---
How do I find customers for my Christmas Tree Lot?
As the holidays draw nearer, you might be thinking about how to make some extra money this season. One way to do that is by running a Christmas tree lot. If you are ready to take on this expense and time-consuming endeavor, the next step will be finding customers to purchase your precious evergreens. While it may seem hard at first, there are proven methods for attracting more holiday shoppers to your lot and getting those trees sold! In this section, we'll explore different ways you can find customers for your Christmas Tree Lot so that you can maximize profits from your venture in the busy seasonal market!
Define Your Target Market
Running a Christmas tree lot for the holiday season is an exciting venture, especially if you are able to attract the right customers. To do this, some knowledge of your target market will be essential.
Start by examining the types of people who live in or near your area, such as age range and income bracket. Knowing local preferences and priorities such as common interests or activities can also influence your strategy. Think about what kind of marketing message would draw in the most potential customers.
Lastly, consider how you want to present yourself – do you want to be the budget friendly option or go all out and offer a high-end experience? By defining your target markets needs and wants ahead of time, you'll be able to make more informed decisions on how to grow your business with greater efficiency and impact.
Create a Marketing Plan
Creating a marketing plan to attract customers to your Christmas tree lot is essential for having a successful holiday season. First, decide on the type of advertising you would like to utilize.
You can consider social media campaigns, radio or television advertisements, printed posters, or mailers. Consider who your target audience is and where they spend their time online or in their physical community. Then, come up with eye-catching visuals and content that will grab their attention and make them want to visit your lot.
Once you've decided on the mediums for presenting your message, don't forget to measure the effectiveness of your efforts by tracking user engagement and sales growth.
With a combination of excellent visuals and effective research on which methods are best suited for reaching your target customers, you'll be sure to have a profitable holiday season!
Build a Web Presence
Building a web presence for your Christmas tree lot is essential for success in the modern economy. With so much competition vying for customers' attention, you need to set yourself apart from other lots in the area.
An important first step is creating an informative website with relevant details about your business: open hours, location and contact information are all helpful pieces of information to include.
Additionally, it's wise to build out social media profiles on platforms that make sense for your customers; your typical demographic may be more likely to use a certain platform than another, so tailor the message and visuals accordingly.
Once established, it's crucial to consistently share updates while engaging directly with followers – replying to messages and even offering exclusive holiday promotions! With these tips in mind, you can create a powerful online presence this holiday season that helps attract new customers.
Use Organic and Paid Social Media
With Christmas just around the corner, now is the perfect time to use organic and paid social media to help find customers for your Christmas tree lot. Organic social media provides a unique opportunity to reach people quickly and cost effectively by sharing content related to your products or services.
In addition, creating paid social media campaigns can help ensure that your posts are seen by the right audience and attract even more customers. With the right strategy, both organic and paid social media can be powerful tools in driving more sales this holiday season.
Advertise in Local Publications
If you own a Christmas tree lot, advertising in local publications is an effective way to find customers during the holiday season.
Think of what types of publications your desired customer base reads, and target those for ads. If you want it to be more generic, advertise in all-purpose newspapers, magazines, and newsletters so the maximum number of people can see the ad.
Make sure your ad includes the necessary details like your location and contact information as well as what types of trees you have and any special offers or deals that you may have on offer. Make sure also that your ad stands out and attracts attention – use an eye-catching image or tagline if appropriate – but don't get too outlandish as that could put potential customers off.
Advertising in local publications can help get the word out about your Christmas tree lot and bring more customers to you this holiday season!
Have Great Signage
If you're running a Christmas tree lot this holiday season, excellent signage is key for attracting customers. Pay attention to what catches your eye on the street and incorporate that to make your signs stand out. Make sure the text is big, bold and legible from a distance for maximum readability.
Professional designs and festive colors can also help draw the eye to the sign and encourage people to visit your tree lot! Additionally, create multiple signs that are placed all around town so customers know exactly how to find you. This will ensure more people find their way to you this holiday season!
Network with Local Businesses
Taking advantage of local businesses to help you network and find customers for your Christmas tree lot is a great way to maximize profits this holiday season! Identify businesses in your community that cater to busy working adults, as well as those with young families.
Establish relationships with them by providing discounts, speaking at their company events or asking to be included in participant rewards programs. Reach out to groups such as churches, sports organizations, non-profits and other service organizations about selling trees and host creative promotions that draw people in. Use the resources available within local networks and rely on partnering up rather than going it alone.
These simple but effective tactics can go a long way towards making your Christmas tree lot the go-to destination this holiday season!
Get Listed in Online Directories
Promoting your Christmas Tree Lot online is a great way to get the word out and draw in potential customers in the lead up to the holidays.
One effective tool to help grow your custom and build brand awareness is to get your business listed in as many relevant online business directories as possible.
This will make it easier for people who are looking for a local Christmas tree lot to find you, plus it also provides additional backlinks to your website which can positively impact website rankings on search engine results pages.
It is important that when creating listings you pay close attention to detail so that all details are accurate; this improves credibility, builds trust and will help customers feel confident in their decision to buy from you.