Ever dream of becoming an entrepreneur and being your own boss? Have you ever looked around for startup ideas, but nothing has really piqued your interest? If so, our ultimate guide to starting a cell phone repair business could be the perfect opportunity you've been waiting for. With smartphones at the center of most people's lives today, they want them quickly fixed when there are issues; this is where you come in! We know it can seem like a daunting task to start up any kind of business – especially one as technical as repairing phones – but with our guidance and expertise, we guarantee that it won't take long before you have your very own shop up and running.
Table of Contents
---
What is a Cell Phone Repair Business?
Cell phone repair is the process of fixing broken cell phones and restoring them back to their original state. Common forms of damage to cell phones can include battery problems, software malfunctions, cracked screens, charging port issues, and water damage. When attempting to repair a phone, technicians will assess the damage, clean and diagnose the device, replace any necessary parts, test its operations in order to ensure proper working conditions, and finally finish with a quality assurance check. It is important to note that depending on the nature of the issue at hand, certain steps may need to be skipped or others may need to be taken when repairing cell phones. For example, if a phone has suffered water damage then it is quite likely any open ports that were exposed should be dried off before moving forward with repairs. Ultimately, no matter what type of problem your cell phone may have experienced – from a basic software malfunction all the way up to extreme physical damages caused by dropping it into a pool – there are professional technicians who can help you troubleshoot and get your device running again in no time.
---
Why would I want to start a Cell Phone Repair Business?
Have you ever thought about starting your own business? If you're looking for an exciting and potentially lucrative venture, consider starting a cell phone repair business. This type of business is in high demand and has very low overhead costs, making it an ideal choice for entrepreneurs. Here are 4 reasons why you should start a cell phone repair business.
Low Startup Costs
Starting up any type of business can be expensive, but with the right tools and resources, opening a cell phone repair business doesn't have to break the bank. All you need is some basic knowledge of electronics and the right tools to get started. Many companies offer starter kits that include everything from small parts to more complex pieces like LCD touch screens and charging ports; plus, other items such as screwdrivers, pry tool sets, spudgers, vacuum pumps, solder iron sets, and even soldering fluxes.
High Demand
We live in a world where our mobile devices are essential to our daily lives. With so many people relying on their phones to stay connected and productive, it's no surprise that the demand for cell phone repair services is higher than ever before. From broken screens and water damage to camera replacements and power problems, there's always someone in need of repairs or maintenance services.
Flexible Schedule
Owning your own cell phone repair business gives you the freedom to choose your own hours and work when it suits you best. Whether you want to work part-time or full-time (or something in between) the choice is yours! Plus, since most mobile repair jobs don't take too long (15 minutes – 1 hour) you won't be tied down all day doing repairs; giving you plenty of time to focus on marketing your services or taking on new clients throughout the day.
Potential for Growth
The potential for growth in this industry is vast! Once word gets out about your services, customers will come from far and wide looking for quality repairs at reasonable prices—and if they're happy with their experience they'll keep coming back! Plus with more brands launching new models each year—there'll always be new customers who need help getting their devices up and running again!
Starting a cell phone repair business can be an incredibly rewarding venture—especially if you have the passion for technology! Not only do these businesses require minimal startup costs but they also give entrepreneurs the flexibility to work when they want while potentially earning good money along the way! So if this sounds like something that interests you—why not give it a go? It could be just what you need to achieve financial freedom while doing something fun!
---
How do I start a Cell Phone Repair Business?
Starting a cell phone repair business has the potential to be one of the most rewarding, and lucrative, entrepreneurial pursuits you can take. With mobile device numbers increasing yearly and technology constantly improving, becoming an expert in repairing these devices is no small feat – but it is achievable. Whether you're looking to serve local customers or find ways to service people on a global scale, understanding how to start a cell phone repair venture requires considering both aspects of your journey: the technical know-how that goes into fixing cell phones and tablets as well as the administrative skills needed to successfully launch an enterprise. We'll cover everything from finding clients interested in your services to crafting contracts protect both sides so that you can get started right away!
Define Your Niche
Starting a cell phone repair business can be an exciting venture, but it helps to define your niche before you dive in full force. What services would you like to offer? Are you going to specialize in smartphones for a certain brand or model of phone?
Maybe you'd like to focus on repairing charging problems or water damage. Knowing your niche ensures that you are offering the customer something that no one else can, setting your business apart and positioning it for success. Take the time to think about what services best fit with the resources, skills, and experience you bring to the table.
Once you've done that, research similar businesses and see how they market their services; use their ideas as a springboard for inspiration. You may find new ways of reaching customers or creative strategies for understanding and serving their needs. Finally, remember that any business succeeds when owners are passionate about what they are doing – stay true to your ideas and watch your repair shop flourish!
Create a Business Plan
Starting a cell phone repair business will require careful planning and preparation. Considering the necessary investment in materials, location, staff, and marketing, taking the time to create an appropriate business plan is essential for success.
To begin developing your business plan, first determine what type of services your cell phone repair business will offer. Research the industry to create competitive pricing for these services, as well as determine an average rate for labor costs not included in parts.
Additionally, consider how you will differentiate yourself from competing businesses – this could be through offering extended warranty periods or specialized repairs that others don't provide. Finally, create financial forecast projections which estimate the potential revenue of your cell phone repair business based on market data that you can gather from existing local competitors.
By following this approach when creating your business plan, you will be able to make informed decisions about launching a cell phone repair service that is well-prepared to succeed in the marketplace.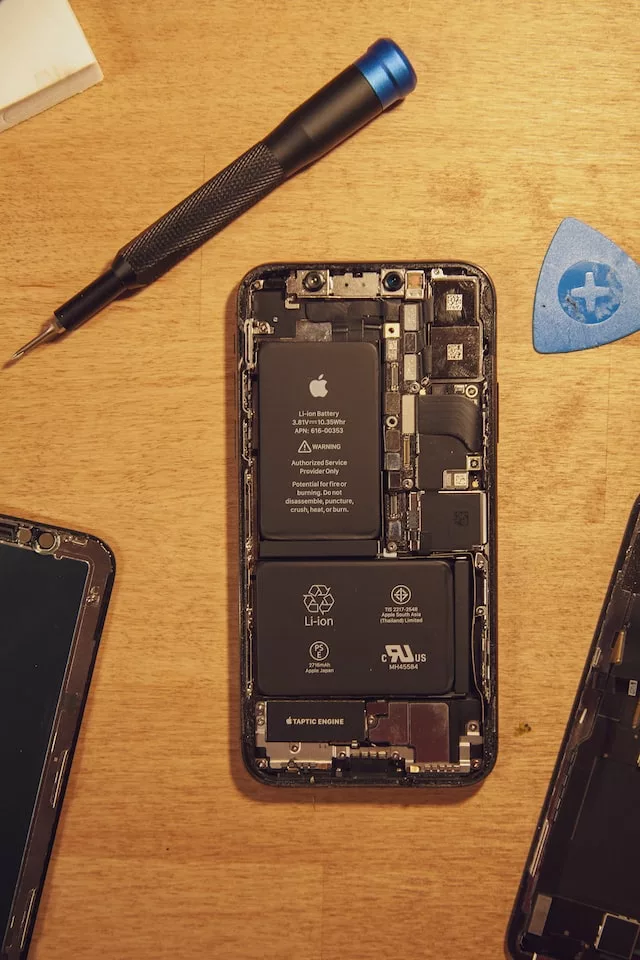 Find Funding for Your Cell Phone Repair Business
For business owners hoping to start a cell phone repair business, finding the right kind of funding can be a challenge. However with the right strategy, acquiring funds is possible and opens up many paths to success.
To give yourself the best chance of success, consider looking for options such as angel investors who already specialize in financing tech-related businesses or venture capitalists who invest in tech startups or inventions with high potential. If neither of those options seem feasible, traditional loans are available that may be easier to get approved.
No matter your approach, it's important to have a clear plan on how you would use the funds effectively and really evaluate if this business is something you're invested in making work for years to come.
Get the Necessary Permits and Registrations
Starting a cell phone repair business requires more than just technical know-how and passion. In addition to researching the best way to service customers with quality repairs, entrepreneurs will also need to be aware of their local permitting and registration requirements.
First, it is essential to register the business with the secretary of state for legal and tax purposes. Second, you should look into obtaining any needed licenses or permits from your state and/or city. Depending on what area you are in, this may include permits related to health and safety issues, collecting sales tax or conducting specialized activities like recycling.
Not getting the proper paperwork can mean hefty fines or even having your business shut down, so always make sure your paperwork is up-to-date before starting operations!
Find the Training You Need
For those looking to start a successful cell phone repair business, with the right training and knowledge you can get off to an amazing start.
Start by understanding the basics of cell phone technology and the operating systems used in popular phones. Educate yourself on the relevant parts for phones, the tools needed for repairs and their proper usage; this knowledge allows you to confidently diagnose technical problems and recommend reliable solutions to customers.
Additionally, it might be beneficial to gain insight into marketing your business, customer service skills and related legal considerations. With such preparation, there's no doubt that you'll be prepared for anything thrown your way when starting a cell phone repair business.
Find Your Location
Starting a cell phone repair business can be an exciting endeavor, but it's important to carefully consider the location of your shop. Finding the right spot is essential for success, so it's worth taking your time to fully research and explore.
First, make sure you pick an area that has enough traffic for potential customers to notice your store. This could mean prioritizing a more populated part of town, such as being close to where people work or in a shopping center with other related retail businesses.
Additionally, confirm that zoning rules won't restrict what you're trying to do and always check local ordinances before signing a lease. After all these details are taken into consideration, you will be ready to find the ideal location for your cell phone repair business!
Get the Required Equipment for Your Cell Phone Repair Business
Starting a cell phone repair business is a great way to make money and achieve entrepreneurial success. However, it is important that you equip yourself with the necessary tools and resources before you begin.
The essential items for this type of business include a precision screwdriver set, tweezers, spudgers, microfiber cloths, an Antistatic wristband or ESD mat, a vacuum pump and replacement parts for the most popular types of phones.
It is important to note that some specialty tools or parts may be required depending on the kinds of repairs you intend to make – such as soldering irons for water damage repair – so you should do your research into which additional items may be necessary before making any purchases.
Hire and Train Staff
Starting a cell phone repair business can be an incredibly rewarding career choice, but it does require thoughtful planning and preparation.
One of the most important elements of starting any successful business is making sure you hire the right staff and provide proper training to help ensure success. It's important to think carefully about the qualities and skills that are needed for your team members and create job descriptions with those obligations clearly outlined.
After potential candidates have been identified, interviewing them should involve thoughtful questions about their experience and how it relates to the role. Once staff have been hired, it's crucial to invest adequate amounts of time in training them properly on the products, services, and procedures necessary for a successful business.
In order to maximize growth in your cell phone repair business, hiring and training good employees should be treated as a top priority.
Market Your Business
Starting a cell phone repair business is an exciting opportunity for entrepreneurs looking to break into the tech world. Although many people may be deterred by how competitive the market can be, with proper marketing and advertising your business can stand out from the rest. The key to success lies in knowing your target audience and developing a strategy based around their needs.
Knowing each demographic's preferred method of communication will help determine how best to deliver your message; for example, marketing across social media platforms might be necessary for younger audiences, whereas email campaigns or radio ads might attract more traditional customers.
It is important to remember that promoting your services through diverse mediums (print, video, etc.) as well as building relationships with other businesses in order to gain more exposure are important steps in achieving success with your business.
---
How much does it cost to start a Cell Phone Repair Business?
You've seen the signs. Cell phone repair shops are popping up everywhere, and you're thinking about starting one yourself. A cell phone repair business can be an incredibly lucrative venture, but it's important to understand how much it will cost to start this type of business before diving in headfirst. Let's take a look at what you'll need to get started and what kind of costs you should expect.
Initial Costs
When starting any business, there are initial costs that must be taken into consideration. These include the cost of registering your business with the local government, setting up shop (rent, utilities, etc.), and investing in tools and equipment for repairs.
Depending on your location and the size of your business, these costs can range from a few hundred dollars to tens of thousands of dollars. It's important to research your local market before committing to any large investments.
In addition to these initial costs, you'll also need to invest in certain supplies such as spare parts (screens, batteries, etc.) that will be used for repairs. This can add up quickly depending on the types of repairs you plan on offering. It's also important to make sure you have adequate insurance coverage so that you're protected if something were to happen while repairing a customer's device.
Employee Wages & Benefits
If you plan on hiring employees for your cell phone repair business, you will need to consider wages and benefits as well. Depending on the size and scope of your business, this could mean hiring additional technicians or customer service representatives who will handle scheduling appointments or managing social media accounts for marketing purposes.
Your wages will vary depending on the roles filled by each employee as well as local wage laws. It's also important to factor in benefits such as health insurance or retirement plans if applicable.
Starting a cell phone repair business is no small feat—it takes time and money! From initial investments in tools and equipment, supplies for repairs, wages for employees (if applicable), insurance coverage and more – there are many factors that go into the cost of starting such a venture.
By researching your local market before committing any large investments, understanding how much it costs to hire employees or secure insurance coverage, and investing wisely in quality tools & supplies – entrepreneurs can ensure they have all their bases covered when starting their own cell phone repair businesses!
---
How do I find customers for my Cell Phone Repair Business?
Are you a budding entrepreneur looking to build a business in cell phone repair? Are you facing frustratingly low customer numbers and need successful strategies to bring more clients through your door? If so, then this is the guide for you! Here we'll discuss how to generate organic leads for potential customers, advertise your services effectively, and use digital marketing channels to create enough buzz around your shop. Read on and learn useful tactics that will help turn occasional visitors into loyal customers.
Define Your Target Market
To find a steady stream of customers for your cell phone repair business, it's important to define your target market first. Identifying who you want your customers to be can help focus your marketing strategies correctly and ensure that you're targeting the right audience.
Start by evaluating the needs of the local community and researching similar businesses in the area. Having a strong understanding of the existing competition allows you to focus on what features could give you an edge over them before deciding on specific demographics or locations to home in on.
Once you have determined who would benefit most from your services, tailor your messaging and offerings to address those needs more effectively. With a clear target market already identified, you can start investing time and money into developing detailed marketing campaigns that reach them quickly.
Create a Marketing Plan
Starting a cell phone repair business can be an exciting and rewarding venture. However, without customers you will quickly find yourself struggling to stay afloat.
The key to starting and sustaining any business is having a comprehensive marketing plan in place that targets potential customers in your service area.
A few simple tips for developing your marketing strategy include identifying your target customer, creating a professional website with engaging content, optimizing your website for search engine visibility (SEO), leveraging social media platforms, running targeted digital ads using analytics, staying up-to-date with industry trends and news, building relationships through local referral and partnership networks, issuing press releases and newsletters to current clients, offering customer loyalty incentives, attending trade shows and events to meet new customers face-to-face, and providing exceptional customer service.
With the right combination of marketing tools tailored to your business's unique needs, you will set yourself on the path to success with a steady stream of customers who need your services.
Build a Web Presence
Having a web presence is essential for finding customers for any business, and a cell phone repair business is no exception. With the increasing popularity of digital advertising, having an online presence with the necessary information about your business can help potential customers find you quickly and make an informed decision.
A website should have core pages such as "About Us", "Services" and "Contact" to inform visitors about who you are, what services you offer and how they can contact you. It is also important to ensure that the website is designed to be user-friendly in order to retain visitors.
The content on the website should suitably address visitors' needs while portraying a professional image of the business.
Additionally, don't forget to leverage social media platforms such as Facebook and Twitter to increase your reach further. As well-executed strategies can maximize visibility for your cell phone repair business, it's wise to create a strong web presence that helps you secure more customers!
Use Organic and Paid Social Media
If you have a cell phone repair business, you're likely looking for ways to increase your customer base and make sure that people know about the great service you offer.
Organic social media can be an incredibly effective way to accomplish this! You can create content around topics like tips for caring for your device or do-it-yourself repairs, and use relevant hashtags to make sure it reaches the right audience.
Pairing these posts with paid advertisements and boosted posts on platforms like Facebook and Instagram can really help spread the word. Just make sure to keep track of performance metrics so that you can adjust your campaigns as needed.
With a solid approach to organic and paid social media, you'll find yourself with more customers in no time!
Advertise in Local Publications
Advertising your cell phone repair business in local publications is an effective way to find new customers. These publications range from small, regional magazines and newspapers to large ones that are distributed across the region or nation.
Keep an eye out for any special offers or discounts you can provide in exchange for advertisement space. Once published, potential customers who read the advertisement will have access to your contact information and services, giving them a great resource whenever their cell phone requires repair.
Additionally, promoting your business through publications allows you to potentially reach a wider audience than consumer-level platforms like social media do. As such, advertising local publications provides an excellent promotional opportunity for your cell phone repair business.
Get Involved with Local Community Organizations
Finding customers is the lifeblood of a business, but especially so in the cell phone repair industry. One great way to get customers for this type of business is to get involved in local community organizations that serve your area. This could include groups such as charities working on poverty reduction initiatives, sports clubs, or other similar organizations.
By joining these groups and getting involved with their activities, you can develop relationships not only with potential customers, but also with people who are influencers that can help promote your offerings.
Furthermore, you can even offer members discounts or free repair work as incentives to use your services. Ultimately, this will go a long way towards growing your customer base and building name recognition for you and your business.
Attend Trade Shows
Attending trade shows as a business owner can be an excellent way to find potential customers for your cell phone repair business, and there are some key steps you need to take in order to achieve the results you desire. First, you will have to book a space at a reputable trade show and pay the appropriate registration fee.
You should also get organized by designing marketing materials around what makes your service stand out from the rest. When you're at the show, it's important that you network with other attendees, introduce yourself and share your services with as many people as possible.
Additionally, think about offering discounts or free consultations for those who sign up during the show — this is often invaluable in driving more leads. Finally, make sure that even after the trade show is over, you keep up contact with everyone who has shown an interest in your cell phone repair service so that they remain engaged with your business.
Get Involved with Local Charities
Involvement with locally-based charities can be one of the most efficient and effective ways to market your cell phone repair business.
Not only does it give you a chance to advertise for free, but it also gives back to the community and creates positive associations with your brand. When researching charities or organizations that you may want to collaborate with, make sure they are in line with your business values, while still appealing to potential customers in your area.
Volunteering at local events or donating phones to the charity of your choice can be a great way to get started! By taking this selfless approach, you'll have an opportunity to give back while seeing the added benefit of promoting yourself and connecting with locals who may need cell phone repair services in the future.
Network with Local Businesses
Starting a cell phone repair business can be an ambitious and exciting endeavor. One of the best ways to find customers is by networking with local businesses. This doesn't have to be time consuming– simply introducing yourself and letting them know what services you offer is enough to get the word out.
Try to arrange a handshake agreement, where you offer their employees discounts if they bring their phones to you for repairs. You can also put flyers up in community centers, present at informational business events, and contact local news outlets about doing a write-up about your services.
Doing so allows interested parties to easily access information about your business, giving it more visibility and ultimately increasing customer base.
Bring Your Business to Local Events and Festivals
Taking your business to local events and festivals can be a great way to expand your reach as a cell phone repair business. You can talk directly with potential customers about services, showcase your work and even offer special deals for those who attend the festival.
Be sure to prepare ahead of time because having the right materials (table, pamphlets, product displays, etc.) will go a long way towards securing leads and building customer relationships.
Also, it's important to make sure you're reaching people that fit your target demographic – visit local social media pages and websites to find out where you should attend that would bring in the most potential customers.
With careful planning and execution, bringing your business to local events is a great strategy for reaching new potential customers.
Get Listed in Online Directories
Starting an in-home cell phone repair business is a great way to make money working from home. But, exposure is key if you want to generate the most business and help people with their broken phones. One of the best ways to expand your reach and get found to potential customers quickly and easily is by listing your business in online directories.
By listing your business, people searching for repairing near them can find you within seconds. You also get access to more clients as directories are top search rankings on browsers such as Google, making it very easy for users to find you compared to other methods of marketing.
As a result, adding your company details on online directories helps you increase online visibility and optimize your chances of getting more repair orders from those looking for local services like yours.
Offer Coupons and Discounts
Offering coupons and discounts to entice new customers can be a great way to jumpstart business for a cell phone repair shop. It is important that the promotion is tailored well to meet customer wants or needs, as it will help draw people in and let them know they are getting exactly what they are looking for.
When offering these promotions it is helpful to think about things like special holiday discounts, loyalty discounts, or referring friend discounts that would make it worth their while to come through your doors and work with you on repairing their phone.
If done right, coupons and discounts can lead to increased customer satisfaction and in turn bring more regular customers into your shop with repeat business. Witnessing the positive results of such methods can also encourage further promotional efforts as your business begins to grow.