Do you have a passion for the art of aerial acrobatics? Do you dream of running your own studio and inspiring others with gravity-defying moves and unique performances? If so, starting an aerial arts studio is the perfect way to bring your vision to life! This ultimate guide will provide you with all the steps and resources needed to make that dream into a reality. So shed those everyday worries, reach new heights, and let's get started on turning your vibrant imagination into one unforgettable experience!
Table of Contents
---
What is an Aerial Arts Studio?
An aerial arts studio is an exciting place for adults, teens and children alike to learn, practice and experience circus arts! It offers classes for aerial silks, trapeze, lyra, static trapeze and hammock. The aerial arts help students develop strength and flexibility, build confidence in themselves and express themselves creatively. In addition to the physical strength benefits of aerial artistry, participants also practice mindfulness, coordination and self-confidence. With a safe environment and experienced instructors dedicated to helping each student reach their goals while controlling their own progress, an aerial arts studio provides a great opportunity for anyone interested in exploring the skills required by cirque du soleil or just trying something fun and challenging!
---
Why would I want to start an Aerial Arts Studio?
Aerial art, such as aerial silks, trapeze, and lyra, has become increasingly popular in the last decade. For entrepreneurs looking to start their own business, opening an aerial arts studio can be a lucrative venture. Not only does it offer a unique way for people to stay active and healthy, but it also provides a great opportunity to break into the fitness industry. Let's take a look at some of the benefits that come with opening an aerial arts studio.
A Unique Way to Stay Fit
The traditional methods of exercise—running on the treadmill or lifting weights—can get boring after a while. An aerial arts studio offers something different; it provides an exciting and unique way for people to stay fit and healthy. People are drawn to this type of fitness because it is exciting and challenging; it requires strength, flexibility, and focus. Plus, it's fun! It's no wonder why aerial arts is becoming so popular these days.
Flexible Schedule
When you open your own studio, you have the freedom to create your own schedule. You can decide when classes will be offered and how often they will run. This allows you to cater to your target audience's needs and preferences without having to worry about being tied down by someone else's schedule or hours of operation. Additionally, if you choose to offer private lessons or one-on-one coaching sessions outside of regular class times, you can make more money without increasing the number of classes you have available each week.
Simple Setup Requirements
One of the best things about opening an aerial arts studio is that there are relatively few setup requirements compared to other businesses in the fitness industry. All you need is enough space for people to move around safely (a large room or open gym space works well), appropriate safety equipment like crash mats and spotters/coaches when necessary, as well as some basic equipment like hoops/trapezes/ropes/etc., depending on what classes you want to offer. The cost associated with setting up an aerial arts studio is minimal compared with other types of businesses in this industry.
Opening an aerial arts studio can be a great way for entrepreneurs who are looking for a unique business opportunity in the fitness industry. Not only does it provide a unique way for people to stay fit but it also requires minimal setup costs and offers flexible scheduling options that allow entrepreneurs more freedom and control over their business operations than other types of businesses in this industry do. With all these benefits combined, starting an aerial art studio could be just what entrepreneurs need for success!
---
How do I start an Aerial Arts Studio?
Are you dreaming of flying and turning yourself into an acrobat? Do you wonder how to bring your vision of a beautiful aerial arts studio to life? Are you seeking the thrill of transforming your passion for aerial arts into a successful business venture? Welcome aboard! Starting an aerial arts studio is an exciting journey—an adventure in entrepreneurship that will take hard work, dedication, and good planning. However, it doesn't have to be overwhelming.
Whether this is your first foray into business ownership or you are already well acquainted with the ropes, we are here to guide you through each step on your path towards opening up a profitable yet rewarding studio. Keep reading if you're ready to begin living out your dreams and becoming the owner of an aerial art space!
Define Your Niche
Starting an aerial arts studio offers an exciting opportunity to share your passion with others in your community. To ensure success, it's important to establish a clear niche for yourself.
If you specialize in certain equipment or techniques, potential students will know exactly what to expect from their experience with you and will be more likely to enroll. It also helps to decide on the types of classes you want to offer, such as beginner-level classes or specialized technique workshops.
That way, you can target your specific audience and further develop your studio's unique identity. Once you have established your niche, it'll help you reach out to those who are interested in aerial arts so that they can join in on the fun!
Create a Business Plan
Starting an aerial arts studio is an exciting prospect, and creating a proper business plan to ensure your success is essential.
Creating a business plan gives you the opportunity to do research upfront that will save money and time later on. A good business plan should include an executive summary, overview of the services you're offering, analysis of your market competition, core team members, financial forecasting, marketing strategy, and projections for future growth.
In many cases, writing out a complete business plan will also help make it easier to attract potential investors. By taking the needed steps now to create a comprehensive and professional business plan, you can set your aerial arts studio up for success in the long run!
Find Funding for Your Business
Securing the funding you need to turn your dream of starting an aerial arts studio into reality can seem daunting at first.
However, with a bit of research and dedication you can find the funds you need to get your project off the ground. There is money to be had in grants from charities, corporate sponsors, and even crowdfunding platforms such as Kickstarter.
You could also consider venture capital firms or small business loans. Depending on your business plan and needs, there are plenty of options available for entrepreneurs seeking financing solutions. Whatever route you choose, don't forget that patience and perseverance will be key.
Do the necessary work to make sure your proposal is the best it can be before submitting it so that you have the best chance of success when seeking out investor dollars.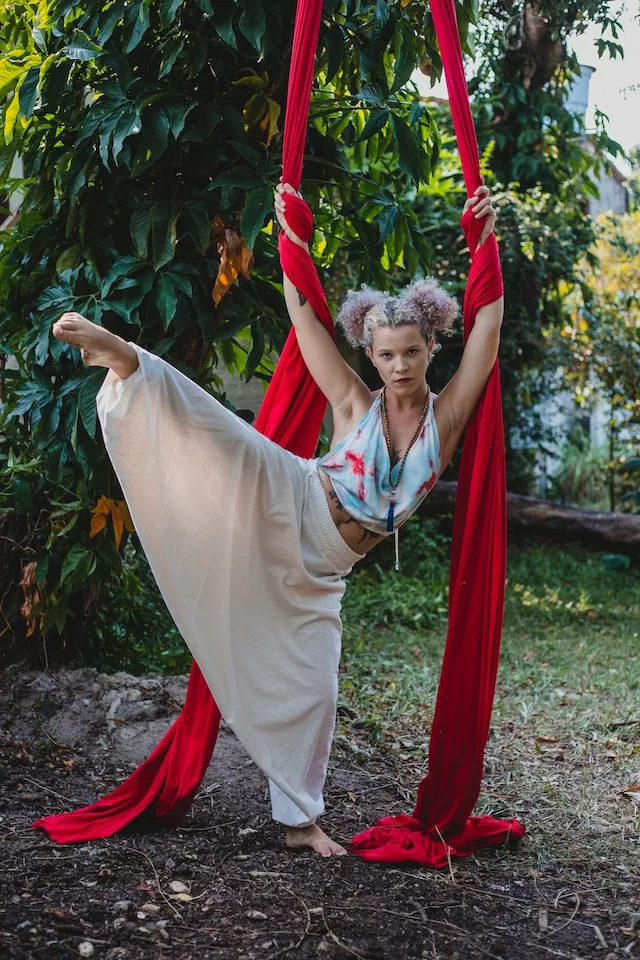 Get the Necessary Permits and Registrations
Starting an aerial arts studio could be the beginning of a rewarding journey; however, this won't happen until you take the time to ensure that your business is properly licensed and registered.
Licensing and permitting requirements vary from state to state, but in most cases you can expect to obtain any necessary local permits, register as a small business with either the state or federal government, apply for a vendor's license, and acquire special insurance for your aerial arts studio.
Even if you plan on operating out of your home, it's important to make sure that both zoning laws and homeowner association regulations are observed. Being up-to-date on all of your documentation gives peace of mind to potential customers and allows them to feel confident in engaging with your business.
Taking the steps needed for proper permitting is fundamental but by no means overwhelming; just make sure that you have all the resources you need before taking flight as a business owner!
Find the Training You Need
Starting an aerial arts studio is no easy task. You must be knowledgeable in the art itself, as well as in running a business and managing staff and clients. To ensure that you are prepared for such a venture, it is important to find the proper training.
Researching your options carefully and considering guidance from experienced professionals can help put you on the path to owning a successful aerial arts studio. Seeking out aerial teachers who have experience teaching classes of all levels allows for great connections and a solid foundation to build upon.
Make sure that you learn all of the specific regulations in your area, too, before making any big decisions or investments. With research and preparation taken care of, you will be much closer to setting up a successful business that promotes movement arts!
Find Your Location
Operating an aerial arts studio requires the precise location, as it must be spacious enough for potential students to perform and grow in their skills.
Thorough research should go into a prospective business owner's decision of location, ranging from whether it can comfortably fit a large amount of people and accommodate multiple levels of difficulty in classes, to factors such as access to nearby amenities, public transportation, parking and safety concerns.
Local zoning regulations should also be considered to ensure one's facility complies with all standards legally required by their area.
In short, locating the right spot for your studio is an important step of the journey when starting an aerial arts business.
Get the Required Equipment
Starting an aerial arts studio is a rewarding and exciting experience. However, before you open your doors to the public, there are several pieces of equipment that you will need in order to ensure that your students can safely practice these exhilarating skills.
First, you will need high quality aerial hammocks, lyra hoops, trapezes, and silks – with enough of each item to accommodate a number of students at once. You will also need to find an appropriate room or space with strong beam work and/or secure joists from which the items listed above can be fixed into place.
Additionally, you should include spotter mats or other safety mats around any stations where your students will be performing tricks and maneuvers.
By investing in the necessary equipment for your aerial arts studio upfront, instructors and learners alike can move forward under the knowledge that their training environment is properly equipped for success!
Hire and Train Staff
Starting an aerial arts studio requires the right staff to help manage and teach the various classes offered. Hiring the right instructors with backgrounds in both the health and physical activities industry while also having knowledge of the aerial arts is key; this ensures that students can receive proper instruction on how to safely learn and perform aerial skills.
After hiring, it's important to provide thorough training for everyone on staff. Training should cover topics like safety procedures, aerial terminology and technique, as well as customer service abilities so students feel welcome and valued! With the right hires and detailed training, running a successful and safe aerial arts studio is possible.
Market Your Business
Starting an aerial arts studio is an exciting venture and a great way to share your passion for the art form with others. Marketing your business is key for getting the word out about your studio, and there are several ways you can go about it.
Consider creating online ads on social media so people in the local area know about your aerial arts studio. You could also distribute flyers, posters, and brochures near places where potential customers can find them.
Building relationships with local businesses that share a similar target audience could help too; by teaming up with these established businesses, you can easily spread the word about your studio.
Finally, don't forget to leverage all of your positive reviews! Word-of-mouth is one of the most powerful marketing tools at your disposal and if customers have had a good experience at your studio, they will talk about it – make sure they have a platform that allows them to do so like Yelp or Google reviews.
With the right marketing plan in place, you'll be able to reach new potential clients who will come see what you have to offer!
---
How much does it cost to start an Aerial Arts Studio?
You've always dreamed of owning a business, and now you're ready to open your own Aerial Arts studio. But how much does this endeavor cost? There are many elements to consider when budgeting for an Aerial Arts studio. In this section, we will cover the main expenses that come with starting an aerial arts studio, so that you can make an informed decision before diving in.
Location
The first thing you need to consider is the location of your studio. The price of rent or leasing fees will vary greatly depending on the area and type of building you choose. Whether you want a downtown spot or a more suburban one, make sure it is easily accessible for students and staff. If possible, pick a place with extra space for storage or even a retail shop where students can purchase apparel and equipment related to the practice.
Teaching Staff
Hiring talented teaching staff is essential for any successful establishment; they should be well-versed in aerial technique, safety protocols, teaching etiquette, and customer service skills. Depending on the size of your staff, wages and salaries may range from $20-$45/hour per employee. It is important to offer competitive pay rates as well as incentives such as health insurance benefits or 401K options if possible.
Equipment & Insurance
Equipment is also necessary to run a successful business; keep in mind that this expense will vary depending on the type of apparatus used in your classes (silks, trapeze bars etc.). Additionally, don't forget about insurance—it's important not only for protecting yourself but also for your employees and customers. Professional liability insurance helps protect against any accidents that might occur while using aerial equipment or during classes at your studio. This type of insurance usually costs between $500-$1,000 per year depending on location and other factors such as class size or type of apparatus used in classes.
Starting an Aerial Arts Studio may seem like a daunting task due to its associated expenses but with proper planning and budgeting these costs can be managed effectively. Make sure to factor in all the necessary expenses such as location rental fees, teaching staff salaries/wages, equipment costs and insurance fees so that you can be prepared when launching your new business venture! With thoughtful planning and budgeting you will soon find yourself running a successful aerial arts studio!
---
How do I find customers for my Aerial Arts Studio?
If you've ever dreamed of owning an aerial arts studio but weren't sure how to find customers, don't worry: it's an entirely achievable goal. With a little hard work and creativity, you can bring your passion for aerial artistry to life while connecting with intrigued potential customers and building a devoted fan base. Whether this is your first foray into entrepreneurship or you're already experienced in the business world, this guide will help empower you to make your dream a reality!
Define Your Target Market
Finding potential customers for your aerial arts studio requires a clear understanding of who your target market is. To do this, start by identifying what demographics and interests make up the majority of your desired customer base. Consider characteristics such as gender, age range, location, and income level. In other words, get to know your ideal customer on a deep level.
Additionally, researching trends and the latest methods in marketing can be an effective way of reaching the right audience. Utilizing both traditional forms of advertising such as television ads or radio broadcasts as well as newer forms like social media will help ensure that your campaign reaches everyone it needs to.
Finding success in reaching customers also means taking into account ever-changing aspects like cultural influences or innovative strategies like influencer marketing.
Ultimately, developing an understanding of who will be attracted to your classes and tailoring campaigns to that group should lead to more consistent growth for your business.
Create a Marketing Plan
Creating a great marketing plan is essential to the success of any business and an aerial arts studio is no different! Start by researching your competition. What makes them successful? You may find that certain marketing techniques, such as mailing and email campaigns, have been highly effective for their studio.
Next, create a niche for yourself within the aerial arts community to distinguish you from other competitors. This can be accomplished through unique classes and pricing models that cater to a select segment of the market. Last, leverage social media to build relationships with potential customers across various platforms.
Keep your content fresh and engaging to stay top-of-mind within the industry! With these steps in motion, you can be sure that your studio will gain more customers in no time.
Build a Web Presence
When it comes to creating a web presence to quickly find customers for your aerial arts studio, the possibilities may seem endless.
Where should you start? An online presence is essential for reaching potential customers where they spend their time: on the Internet. Get started with building out content that showcases the unique experience you provide. Start blog posts and social media accounts to bring visibility to your work and educate potential customers about your services.
Regular engagement with your current clients will create a further connection with them and also help spread the word about your studio.
Once you've established a solid foundation for an online community, don't be afraid to use Paid Advertising campaigns on social media platforms like Instagram and Facebook that can target specifics audiences more likely to be interested in your services.
As long as you keep consistent, creative content flowing, you'll soon have customers flocking to sign up!
Use Organic and Paid Social Media
Social media is a great way to reach out and find new customers for an aerial arts studio! Organic social media utilizes free Twitter, Facebook, Instagram accounts and any other channels that you may have. You can share your company's stories and updates with followers on these platforms.
Additionally, paid social media puts your content in front of potential customers who are outside of your direct network. You can target by location and interests, as well as boost posts or create ads that showcase what your studio offers and different services it provides.
As long as the content is informative, engaging, and captivating, social media can be a broad- reaching tool for engaging existing customers while bringing in new ones–organically or through paid campaigns.
Find an Influencer
Finding an influencer to promote your aerial arts studio is a great way to reach more customers. Research potential influencers who have existing relationships with audiences that are likely to be interested in your services. Consider both influencers that have a large following and ones that target a specific niches.
Make sure their messages align with your business' values, as the wrong influencer can negatively impact your reputation. Offer value or rewards to influencers for the services they're promoting in order to create a win-win situation for everyone involved.
With the right approach, you can put your aerial arts studio on the map and build loyalty with new customers.
Advertise in Local Publications
Starting an aerial arts studio is a great way to monetize your passion for the sport. However, as with any business venture, success requires careful planning and diligence in order to build a customer base. One key step in building up your clientele is to advertise in local publications.
This way, you'll reach people who are passionate about the same things that motivated you to open your studio in the first place! Local publications are tailored specifically to the area that you are targeting and can spread knowledge of your business far and wide.
By investing time in finding the right publications, you can further establish yourself as an expert in this niche and grow your audience beyond existing customers.
Get Involved with Local Community Organizations
If you're looking for new customers for your Aerial Arts Studio, getting involved with local organizations can be a great way to go about it. Take a few days to find out what causes you feel passionate about and start volunteering. That way, you can get your name out there in the community while meeting potential customers and getting the word out about your studio.
You can also attend community gatherings and events related to the organization or cause that you care about in order to network with like-minded people who may be interested in taking aerial classes at your studio. Don't be afraid to undertake small projects or initiatives as well – this is an excellent opportunity to showcase both your passion and end product of aerial artistry!
Network with Local Schools
Networking with schools is an excellent way to promote your studio and find customers for aerial arts. Not only does it increase your visibility, but it also allows you to target a specific audience of families who may be interested in the services you offer.
Reaching out to local schools by attending events such as parent-teacher conferences or sponsoring a field trip could go a long way in ensuring your business generates strong interest from parents who want to introduce their children to aerial arts, while simultaneously helping the school meet curriculum goals.
Additionally, providing demonstrations and workshops at community events, libraries, and other neighborhood establishments can further extend your network and provide greater exposure for your studio.
Networking with local schools is essential when marketing an aerial arts studio – the rewards of building successful partnerships will result in more customers for your business and growth for everyone involved!
Get Listed in Online Directories
Finding customers for your Aerial Arts Studio can be tricky, so the key is to make sure potential customers can easily find you. One easy way to do this is by getting listed in online directories. This will allow potential customers to effectively search and compare different studios.
Once listed, you may also want to create a profile with pictures of students and instructors, class descriptions as well as reviews from previous students. This all helps potential customers get an understanding of what your studio has to offer.
Making sure information about your studio can be easily searched online makes it easier for potential customers to find out the important details they need and get the motivation they need to sign up for classes!
Offer Coupons and Discounts
To successfully attract customers to your aerial arts studio, consider offering special discounts or coupons. This can be an effective way of gaining interest and entice people to sign up for their first class.
Not only will you save money on marketing and advertising costs, but by demonstrating a willingness to offer discounts and promotions you will position your studio in the minds of potential customers as being affordable and approachable.
The most important aspect when it comes to implementing coupon offers is being clear about your expected outcomes so you can measure their success.
If you're setting up a coupon or discount for the first time, start small with limited offers over a short period of time so that you can see what works best for your studio.