Do you have a passion for art? Are you looking for a new and exciting way to make a living? If so, now is the time to start your own art gallery! This complete guide will show you everything you need to do to get started, from finding the perfect location to selecting artists and pricing artwork. So what are you waiting for? Let's get started!
Table of Contents
---
What is an Art Gallery business?
The art gallery business is one that has long been a staple in the art world. Galleries provide a space for artists to showcase their work, and for art collectors and enthusiasts to discover new talent.
However, starting an art gallery can be a risky venture, as it relies heavily on the current market trends and demand for art. It is important for art gallery startups to have a clear mission and curatorial vision, as well as strong relationships with both established and up-and-coming artists.
Additionally, a thorough understanding of the business side of things will ensure success in sales and promotion. Overall, while operating an art gallery can be challenging, with hard work and dedication it can also be highly rewarding.
---
Why would I want to start an Art Gallery business?
Many entrepreneurs may not consider starting an art gallery business because they perceive the industry to be overly competitive or difficult to break into. However, there are many benefits to starting an art gallery, such as being your own boss, setting your own hours, and having the potential to make a significant income. If you are passionate about art and have some business acumen, then an art gallery could be the perfect business venture for you. Here are some of the top reasons to start an art gallery business.
Be Your Own Boss
One of the most appealing aspects of starting an art gallery is that you will be your own boss. As the owner of an art gallery, you will get to decide which artists to showcase and how to market their work. You will also be in charge of setting your own hours and managing your own finances. This can be a great opportunity for creative people who want to be in control of their own career.
Make a Good Income
Another reason to start an art gallery is that it can be a very lucrative business venture. The average profit margin for an art gallery is between 50% and 60%. This means that for every $100 worth of artwork sold, the gallery owner will make a $50-$60 profit. Additionally, many galleries also earn income from commissions on sales, rentals, or through private consultations.
Help Promote Local Artists
As an art gallery owner, you will have the opportunity to help promote local artists and give them a platform to showcase their work. This can be a great way to give back to your community and support the arts scene in your area. Additionally, by promoting local artists, you can help make your community more vibrant and culturally rich.
Meet Interesting People
Another benefit of owning an art gallery is that you will get to meet interesting people from all walks of life. Customers of art galleries tend to be well-educated and have a keen interest in the arts. As a result, you is likely to have stimulating conversations with the people who visit your gallery. You may even make some lifelong friends!
There are many reasons why starting an art gallery can be a great business venture for entrepreneurs. From the potential to make a good income to meeting interesting people, owning an art gallery can provide both financial and personal rewards. If you are passionate about art and are looking for a new challenge, then opening an art gallery may be right for you!
---
How do I start an Art Gallery business?
You've always had a passion for art. You love going to art galleries and you've even been known to buy the odd piece here and there. But have you ever thought about opening your own art gallery? It's a lot of work, but it can also be a very rewarding experience. Here's what you need to know to get started.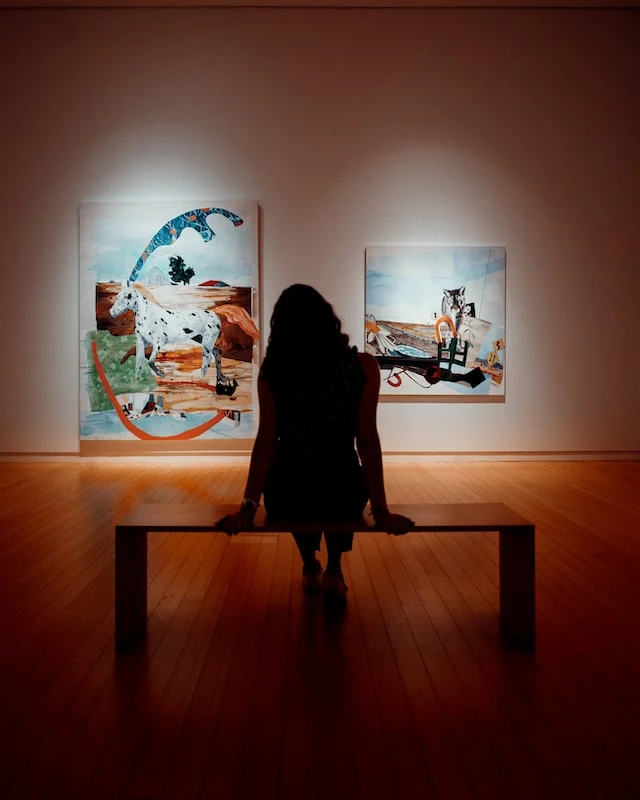 Decide on a focus for your gallery.
When starting an art gallery, it is important to decide on a focus in order to remain competitive and maintain quality standards. Do you plan on showcasing artwork from a certain period or geographical region? Will you focus on a specific type of artwork such as contemporary, abstract, or modern pieces? Deciding which direction to take your gallery will help you identify the right artists and curate collections that best represent your establishment. Additionally, if you can narrow down the focus of your collection it will help attract customers who are looking for particular styles or eras of artwork. Once you have decided on a focus for your gallery it can be beneficial to meet with experts in the field or reach out to current galleries for advice on how best curate and market exhibitions. With proper research and planning, you'll be well on your way to creating an engaging and successful art gallery experience for all patrons.
Find the right location.
When starting an art gallery, selecting the right location can be critical for success. Try to find a spot near other galleries or establishments that will attract foot traffic and potential customers. Look for areas with high visibility and a good reputation; this will help you create and maintain a positive image. Consider the parking situation as well, making sure there is ample space available for customers who come in off the street. Additionally, it's important to assess any zoning issues that may affect your business such as noise ordinances or hours of operation restrictions. Once you have identified a suitable location, reach out to the local community to introduce your business and share information about upcoming events or regular programming. Doing so will help build relationships with neighbors which can lead to more lasting success for your new gallery.
Draw up a business plan.
This is an important step for any business, but it's especially important for something as capital-intensive as an art gallery. Your business plan should include information on your start-up costs, marketing budget, and projections for the first few years of operation. Getting everything down on paper will help you secure funding from investors or lenders and will keep you focused as you move forward with starting your business.
Get the appropriate licenses and permits.
Before opening an art gallery, it's important to get all the necessary licenses and permits. You'll need to consider your business structure, research any applicable state laws and regulations, and look into filing for a sales tax permit and any other local license or permit that may be required. Additionally, if you plan on selling alcoholic beverages, you'll need to obtain a liquor license from the state Alcoholic Beverage Control office. Finally, depending on the location of your business, there may be zoning rules that apply and require additional permits or licenses. Getting all the necessary documents in order before starting a business will help ensure compliance with all applicable laws.
Hire and Train Staff
When starting a new art gallery, one of the most important considerations is hiring and training staff. When looking to fill positions, it is best to keep an open mind and accept applications from a variety of sources, such as job fairs, online postings, and referrals from current employees or colleagues in the industry. Once you have identified qualified candidates for your team, arrange for interviews and background checks as needed. It's also important to clearly outline job descriptions for each position during the interview process so that expectations are clear from the start. Once hiring is complete, begin training staff to ensure they understand their duties and how to best serve customers. This includes familiarizing them with inventory systems and procedures regarding customer service and sales tactics. Provide ample opportunities for practice and feedback on customer interactions before they are set loose in the gallery. Finally, be sure to explain employee benefits including vacation time off policies in order to ensure a positive work environment throughout your entire team.
Promote, promote, promote!
Starting an art gallery is an exciting venture, but it can be hard to know where to start when it comes to marketing. A good first step is to build a website and create various social media accounts on platforms like Instagram, Facebook, Twitter, and even LinkedIn so that potential clients have multiple avenues into learning about your gallery. You should also consider targeted online advertising campaigns on these platforms as well as Google Ads in order to reach custom audiences. Don't forget about referrals from other art galleries, local businesses and organizations – having word-of-mouth recommendations can go a long way in establishing credibility for your new business. Finally, you can use mailers and postcards to send information out about upcoming shows and events at the gallery – this will help increase foot traffic and generate interest in your artwork. With a comprehensive marketing strategy in place, you should be well positioned for success with your new art gallery.
Opening an art gallery can be a lot of work, but it's also a very rewarding experience. By following these steps, you can get your business off the ground and start promoting the artists that you love!
---
How much does it cost to start an Art Gallery business?
Before you get your art gallery off the ground, you need to know how much it's going to cost you. Fortunately, the cost of starting an art gallery is relatively low compared to other businesses. In this blog post, we'll break down the costs of starting an art gallery so that you can make an informed decision about whether or not this business is right for you.
Rent/Lease Costs
One of the biggest expenses you'll incur when starting an art gallery is the cost of rent or leasing a space for your business. The amount you'll need to budget for this will depend on a number of factors, including the size and location of the space you're looking to lease. If you're looking to lease a large space in a major city, you can expect to pay significantly more than if you're leasing a smaller space in a less populated area.
Build-Out Costs
Once you've secured a lease for your art gallery, you'll need to factor in the cost of any build-out or renovations that need to be done to the space before it's ready for business. The extent of the work that needs to be done will again depend on factors like the size and condition of the space you're leasing. If the space is already in good condition and only requires minor cosmetic changes, your build-out costs will be relatively low. However, if significant work needs to be done to make the space suitable for an art gallery, your costs will be higher.
Gallery Furnishings
Once your space is ready for business, you'll need to furnish it with things like display cases, chairs, and art racks. The cost of furnishing your gallery will again depend on factors like the size of your space and the quality/type of furnishings you choose. If you opt for high-end furniture and fixtures, your costs will be higher than if you select more economical options.
Insurance
Like any business, it's important to insure your art gallery against potential risks like theft, damage, and liability claims. The cost of insurance will depend on a number of factors, including the value of your inventory and the location/security of your space. Working with an experienced insurance broker can help you get the coverage you need at a price that fits within your budget.
Marketing & Advertising
To attract visitors and generate sales, you'll need to market and advertise your art gallery both online and offline. There are many ways to market and advertise your business, and the cost will vary depending on which methods you choose. For example, online marketing through social media and Google AdWords can be very effective but can also be quite costly if not done carefully. Offline marketing methods like print ads and direct mail are typically less expensive but may not reach as wide an audience as online methods.
The cost of starting an art gallery business can vary depending on a number factors like location, size, and build-out costs. However, overall, the cost of starting an art gallery business is relatively low compared to other businesses. With careful planning and budgeting, it's certainly possible to get your art gallery up and running without breaking the bank!
---
How do I find customers for my Art Gallery business?
So you've decided to open an art gallery. Congratulations! This is a great way to showcase local artists and give them a platform to sell their work. But before you can start hanging artwork on the walls, you need to figure out how to get customers in the door. Here are a few tips to help you get started.
Build a web presence.
Building an online presence is essential for finding customers for a successful art gallery business. The first step to creating a web presence is to have a website that showcases the artwork, along with contact information and any other relevant details about the gallery. Post regularly on the site to keep potential customers informed of new works, featured artists, and upcoming events. Social media pages should also be created and updated frequently with content related to the gallery; they are great platforms for announcing new collections or promotions and engaging with followers. Consider launching a blog or newsletter as well, which can be another way of introducing your brand to more people. With consistent work, you will soon start seeing more customers interested in what you have to offer.
Get involved in the local art scene.
To find customers for an art gallery business, it is important to get involved in the local art scene. Make sure to attend all relevant events and network with other galleries or venues. Participate in open mic nights, conferences and group exhibitions to showcase your space and get your name out there. You can also host art-related workshops or lectures to draw in new audiences. Social media can be a great tool for reaching out beyond the local community, giving your gallery greater visibility and possibly even acquiring new customers from far away locations. By getting involved in the local art scene and utilizing effective marketing strategies such as social media, you will be well on your way to filling your gallery with customers eager to explore the artwork within.
Use social media.
Using social media to find customers for an art gallery business is a powerful tool. Create social media pages for your gallery and regularly post content about the artwork, artists, events, and any other notable news that may be of interest to potential customers. Additionally, using targeted ads can help you reach people in both local and far away locations who may be interested in viewing the art at your gallery. Take advantage of all the features available on social media platforms such as stories, posts, polls, streams and timelines to keep followers engaged and up-to-date with what's going on at the gallery. By leveraging these tools correctly, you can increase brand awareness and attract new customers to your gallery business.
Host events.
In addition to art openings, consider hosting other types of events at your gallery. Wine tastings, live music, and panel discussions are all great ways to attract new people and build buzz around your business. And don't forget about private parties! If you rent out your space for birthday parties, corporate functions, or other private events, you can make some extra income while also getting your gallery's name out there.
Find a local influencer.
Finding local influencers is a great way to get the word out about your art gallery business and attract new customers. Start by researching which influencers have a similar aesthetic to that of your gallery, then reach out to them directly with an invitation to collaborate. Offer them free access to your gallery or compensation in exchange for promotion on their channels. You can also use platforms like Upfluence and Shoutcart to help you connect with potential influencers and make the process easier. Influencer marketing is an effective way to reach potential customers who may not be aware of your gallery, so don't miss out on this opportunity for increased visibility. The more engagement you create around your brand, the more likely it is that people will come looking for what you offer.
Get involved with local community organizations.
Getting involved with local community organizations is a great way to attract customers to your art gallery business. Attend events that showcase local art, participate in fundraisers and charity projects, or create activities such as workshops or classes related to art that locals can join. Additionally, consider joining professional networks or associations that offer support and resources for artists. Such involvement will help your gallery become more visible and successful in the local community. Furthermore, you can use these networks to network with potential customers, post about featured works, or promote upcoming events at the gallery. By increasing awareness of your brand within the local community, you will be able to attract more customers for your business.
Opening an art gallery is a great way to support local artists and bring beauty into the world—but only if you can find customers! Fortunately, there are plenty of ways to attract people to your business. By getting involved in the local art scene, using social media wisely, and hosting regular events, you'll be well on your way to success.