Are you ready to start your own profitable business this holiday season and benefit from the lucrative Christmas tree industry? If so, then a Christmas tree farm is an excellent venture with tremendous potential. In fact, many new entrepreneurs are finding success with this idea every year! No matter if you have existing agricultural experience or not, with a little bit of knowledge and hard work, you can make it happen. In this ultimate guide to starting a Christmas Tree Farm, we cover all the necessary steps where — whether beginner or experienced — you'll find valuable information on how to properly plan out and launch your very own operation. Let's get started!
Table of Contents
---
What is a Christmas Tree Farm?
A Christmas tree farm is a piece of land dedicated to the purpose of growing and selling Christmas trees. It is essential for a Christmas tree farm to remain in operation for at least seven years to ensure that the trees it cultivates grow to the perfect size for the holiday season. The planning and commitment involved makes opening a Christmas tree farm an interesting challenge. Varieties such as noble fir and Douglas fir are often grown, each with their own qualities providing customers with plenty of options when searching for their perfect holiday centerpiece. The role that a Christmas tree farm plays in bringing happiness during the holidays is not to be underestimated!
---
Why would I want to start a Christmas Tree Farm?
If you're an entrepreneur looking to start a business and are considering the Christmas tree farm industry, there are many benefits that come with it. Not only is it a great way to make money, but it's also a great way to provide your family with an additional source of income while still having time to spend together during the holidays. Let's dive into why starting a Christmas tree farm may be right for you.
The Benefits of Starting a Christmas Tree Farm
One of the biggest benefits of starting a Christmas tree farm is that you don't need any special skills or expertise to do it. You can easily learn how to grow and care for trees through online research, books, and YouTube videos. Plus, you don't need to purchase expensive equipment; some basic hand tools will get the job done.
Another benefit is that you can start on a small scale if needed. While larger farms may require more resources and labor, small-scale farms can require relatively little investment and effort. Additionally, certain grants and subsidies are available for those who want to get started in this industry but may not have enough funds or resources at their disposal.
Finally, selling trees can be quite profitable; with the right marketing plan in place, your business could become very successful in no time! Not only that but selling trees is also a fun and rewarding experience as customers often thank you for providing them with beautiful trees they can enjoy during the holiday season. Plus, if you have young children or grandchildren involved in your business venture; they too will receive joy from helping create something special for others during such an important time of year!
Starting up a Christmas tree farm may seem like an intimidating endeavour but in reality there are many benefits associated with this industry. Not only does it offer potential financial reward but it also provides a space where families can work together creating something meaningful over the holiday season – something that will bring joy to others during this special time of year! If you're an entrepreneur looking for something new or just want to supplement your family's income this winter season then consider starting up a Christmas tree farm – there's no better way to spread holiday cheer than by doing good!
---
How do I start a Christmas Tree Farm?
Are you ready to take the plunge into your own business this winter? With Christmas right around the corner, there's no better time than now to turn your passion for growing trees into a profitable venture. Starting a Christmas tree farm isn't as daunting as it might seem — with some hard work and dedication, it can become one of the most rewarding investments you make in yourself! We're here to provide all the information you need to get started on creating your very own successful Christmas tree farm.
Define Your Niche
Starting a Christmas Tree Farm can be a rewarding endeavor and beneficial for the environment. To ensure success, it is important to begin by taking the time to identify your niche market.
For example, will you focus on pre-cut trees or allow customers to cut their own? Will you offer specialty trees such as Fraser Fir and Douglas Fir or a general selection of other varieties? Not only do you need to consider what kind of trees you will grow, but also what services will you offer? Do you want to provide shaking and baling of purchased trees? What about rides around your property in a horse-drawn carriage?
Consider what unique features would make your farm stand out from other local tree farms when crafting an appealing niche. The key is finding out what works best for both you and your customers!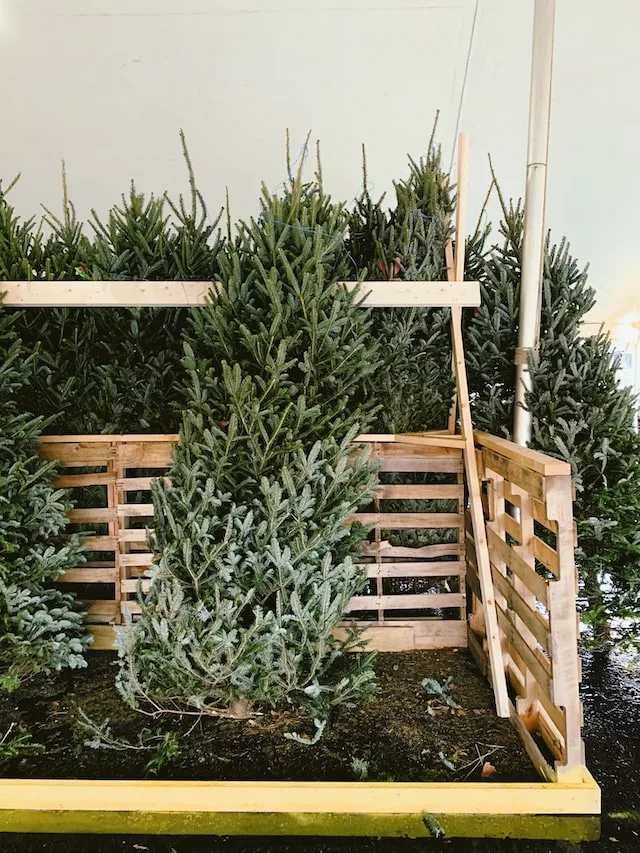 Create a Business Plan
Creating a business plan for a Christmas tree farm is the first step towards turning your dreams into reality. Before you do anything else, make sure you have a comprehensive understanding of your local market; will demand be high enough to compete with established farms? How will you compete on price?
Once these questions are answered, start by outlining the economics of the farm; how much land will you need? What tools and equipment will you need to purchase? Will you hire any employees, and what are their needs going to be?
It's also important to create detailed financial projections for the first three years of operation so that potential investors can see what kind of return they might receive in exchange for their capital. Planning up front should make it easier to launch when the time comes.
Find Funding for Your Business
Securing the funding to start a Christmas tree farm is a necessary first step to launching your business, but it can seem like a daunting task. The good news is there are several methods you can explore to locating financial sources for your venture. Government assistance and grants may be available at the local or state level, and you may be able to apply for one of these programs depending upon the requirements associated with them.
Additionally, if you have some money saved from previous income, you could use that as seed money for the business. Lastly, you can look into private investment options such as angel investors or lending institutions who are in the business of helping people realize their entrepreneurial dreams.
Investing time into researching each funding source is vital before making any decisions and will help set a solid foundation for your new business endeavor.
Get the Necessary Permits and Registrations
If you are planning on getting into the Christmas Tree farming business, it is important to make sure that you are properly registered and licensed to do so. Depending on the state in which you live, the type of permit or license may vary. It is beneficial to research early, as permits can take some time to be approved. Additionally, hiring a lawyer that knows the laws in your area might be helpful too.
Make sure all paperwork is filled correctly and submitted in a timely fashion before purchasing trees or any other supplies or equipment involved with starting your farm. It's most important to protect yourself as well as customers and employees by following all proper protocol and ensuring that you have everything ready before beginning operations.
Find the Training You Need
Starting your own Christmas Tree farm is a great way to provide quality trees that can be both sustainably and economically farmed. But it takes effort: Beginning the business demands plenty of planning, the right investment and knowing how to maintain the trees year-round.
To make sure you have a profitable enterprise, finding sources of training and educational materials is essential to stay competitive. Before launching your business, take the time to research organizations or local universities that provide instruction on tree farming and management so you are well-prepared when it's time to get the business off the ground.
With the right guidance, setting up a Christmas Tree farm can set you on a path of success.
Find Your Location
Before you launch your Christmas Tree Farm, it's important to first find the right location. Think about the local climate, soil type, market availability and transportation routes. Siting a farm on land with high traffic can really help sales. Consider researching the area around you to ensure you have access to a wide range of customers.
Also look into any state or municipal regulations that may impact where and how Christmas Tree Farms are set up. Finding the right spot will give your farm the best chance for success and also provide years of enjoyment in your new venture!
Get the Required Equipment
Starting a Christmas tree farm can be an exciting and rewarding experience, but before you begin there are certain pieces of equipment that need to be acquired. It is essential to acquire a good quality mower, hedger, trimmer, tractor, and chainsaw.
Not only will these pieces of equipment make it easier to harvest the trees, but they will also help you maintain the land efficiently and effectively over the years. Alongside traditional machinery, new modern technologies such as GPS systems for navigation are quickly becoming standard for more efficient maintenance of your holiday tree market.
Much of this technology may be outside of your budget initially; however it is definitely worth researching and investing in if possible. Finally don't forget safety gear such as protective gloves, goggles and appropriate clothing as working in a farm environment can be dangerous!
Hire and Train Staff
Starting a Christmas tree farm is an exciting venture that can bring a great deal of joy and entertainment to your local community. The key to success in this business lies in your ability to hire and train staff that are passionate, reliable, and hard working.
Make sure it is clear during the interviewing process what job roles you intend each person to have and ensure they have the skills and knowledge needed for the position. Prioritize customer service training so that all employees are aware of how to properly interact with customers.
Finally, set systems in place for ongoing safety training so that employees are prepared to handle any emergency situation. With great leadership, hard work, and quality staff, you're sure to create a successful Christmas Tree Farm!
Market Your Business
When you decide to start a Christmas tree farm, you will want to make sure your business gets seen. One of the most important steps in starting the farm is marketing; you need to create awareness so that customers know about the trees on offer and where to find them.
Consider creating a website or having someone design specialized graphics for social media to post regularly. You can also set up signs near prominent locations like town squares or churches advertising when and where trees are available.
Customers are also likely to respond positively to personal touches such as providing entertaining activities such as making hot cocoa, carving decorations into pumpkins, or distributing candy canes. With thoughtful effort and strategic planning, your Christmas tree farm will be surefire success!
---
How much does it cost to start a Christmas Tree Farm?
Have you ever wanted to start your own business? If so, then why not try taking the plunge into running a Christmas tree farm? It's a great way to make extra income while enjoying the outdoors. But before you begin, it's important to understand the costs and considerations associated with starting a Christmas tree farm. Let's take a look at what it takes to get started.
How Much Does It Cost?
The cost of starting a Christmas tree farm varies depending on several factors, such as where you live, how much land you have, and what type of trees you want to grow. Generally speaking, it can cost anywhere from $2,000 – $10,000 for startup expenses like seedlings or cuttings, fertilizer, soil testing kits, and rental equipment for planting and harvesting.
What Other Factors Should I Consider?
In addition to the financial aspect of starting a Christmas tree farm, there are also other things to consider. For example, you will need enough land (at least 5 acres) that is suitable for growing certain types of trees. You should also be prepared to spend time caring for your trees throughout the year—including watering them in dry weather and trimming them regularly—and be able to manage any pests or disease that might affect them. Finally, it's important that you familiarize yourself with local regulations regarding Christmas tree farming in your area before getting started.
Starting a Christmas tree farm is an exciting opportunity for entrepreneurs who want to make extra income while enjoying the outdoors. However, there are costs associated with this venture as well as other factors that must be considered before getting started. Knowing what it takes ahead of time can help ensure that your business is successful from day one! Good luck!
---
How do I find customers for my Christmas Tree Farm?
The holiday season is just around the corner, which means now's the time to start selling trees from your Christmas tree farm. You might be asking yourself – how can I go about finding customers for my business? It's an important question that any entrepreneur running a Christmas tree farm needs to consider if they want to make money this season. In this section, we'll outline tips and strategies on attracting more customers so you can increase your sales and maximize profits during the busy festive period. So let's dive in!
Define Your Target Market
If you're trying to find customers for your Christmas tree farm, it's essential that you take the time to define your target market. Consider things like your location, the type of trees you sell, potential customer age group and income level, as well as their interests. You can then start targeting ads and marketing messages directly to that specific niche of people who are more likely to show interest in buying a Christmas tree from your farm. Make sure your message is clear and that it reflects the values of your target audience so they'll be eager to purchase from you this holiday season!
Create a Marketing Plan
A successful marketing plan for your Christmas tree farm starts with a carefully crafted message that explains what sets your business apart from the competition. Aim to disclose the different types of trees you have available, any special services you offer (such as fresh wreaths or handmade ornaments), and provide photos and descriptions of your operation so potential customers will gain a better understanding of your product.
Once you've developed materials to explain the value proposition of choosing your business, take the message out into the community by engaging in local events, spend budget on online advertising, or set up a website to promote products and services. Doing this is an effective strategy to reach both existing and new customers at scale. Also consider incentivizing customer loyalty with discounts and loyalty programs, or work with other local businesses on cross-promotional opportunities. With careful planning and consideration, you can find more interested customers for your Christmas tree farm.
Build a Web Presence
Being a Christmas Tree farm owner, you know that customers come in ebbs and flows over certain times of the year. Having an online presence is key to maximizing your growth as it reaches and broadens your customer base from all areas around the country. Developing and maintaining a web presence can be a daunting prospect – where do you start?
First off you should try creating a website for your business, making sure to include information about location, open hours and pricing, as well as images of trees if possible. You should also consider creating social media profiles for yourself, both to advertise special offers or discounts for customers but also to give customers more insight into what Christmas tree life is all about! These strategies will help you increase customers and find new ones during Christmas season.
Use Organic and Paid Social Media
Reaching potential consumers for your Christmas tree farm through both free and paid social media is a terrific method to increase sales. Making material about your farm that people are inclined to share with their networks is a part of organic social media. To let people know that your trees are available, you can utilize pictures, videos, competitions, or holiday-related posts.
Using sponsored content to directly target users on paid social media platforms enables you to reach a larger audience. This method enables you to produce relevant ads that are viewed by people who could be interested in purchasing from your company, making it even simpler for them to locate you throughout the Christmas season.
Find an Influencer
If you're looking to get your Christmas tree farm off the ground and increase customer revenue, an influencer is a great way to do that. An influencer is someone with a large audience of followers who they can influence and potentially convert into customers. Influencers can include content creators, celebrities, or industry experts – anyone who has an active social media presence and the ability to positively impact their followers' decisions.
To start, research potential influencers by taking a look at their social media profiles, their audience location and size, and their engagement rate. When you find someone that looks like an ideal fit for your business, reach out to them and ask how much it would cost for them to share your message before going ahead with any kind of promotion or partnership.
Advertise in Local Publications
Advertising in local publications is a great way to find customers for your Christmas tree farm during the holiday season. Of course, the message you put out needs to be well-crafted and effective, so it's important to make sure your advertisement stands out and is eye catching.
Think carefully about who your target audience is and pay close attention to how you explain the benefits of buying a Christmas tree from your farm; how it will bring joy, family togetherness or any other message you want to communicate. And don't forget to include good directions on how potential customers can find you! Advertising in local publications is a cost-effective method of building customer loyalty and gaining new customers for your business – just make sure that every word resonates with your customers.
Get Involved with Local Community Organizations
There are many ways to get customers for your Christmas Tree Farm, but one of the most effective methods is to get involved with local community organizations. This could mean joining a Chamber of Commerce in your area, attending public events related to the holiday season, or making direct connections with people at clubs and churches which host Christmas parties and decorating contests. Taking part of these organizations provides a great opportunity to meet potential clients without any additional overhead.
Additionally, establishing relationships with local retailers can help you launch targeted marketing campaigns that meet the needs of your target market. By getting connected with the local community, you will be well on your way to finding loyal customers for years to come!
Attend Trade Shows
Attending trade shows is a great way for Christmas tree farms to attract new customers. Trade shows give growers the opportunity to meet potential customers in their community and beyond, as well as gather feedback about their product and services. Gatherings like these are great places to promote your business and build awareness of your brand.
Additionally, they provide businesses with the chance to stand out from competitors and gain recognition amongst current and future customers alike. Make sure you come prepared with enough promotional materials such as business cards, brochures, catalogues, or other items associated with your brand as well as plenty of product samples if possible. Taking advantage of a local trade show is an excellent way to expand your reach of potential customers!
Network with Local Businesses
Networking with local businesses is a great way to market your Christmas tree farm and find customers. Building relationships within your community, such as with other small businesses, can be a powerful way to introduce customers to your seasonal business. Consider providing discounts for partnering companies who offer advertising in return, or provide a special benefit for their own customers if they purchase from you.
You could also reach out to schools or local organizations and offer them an educational tour of your farm; not only will this attract more buyers, but it can also foster a sense of community spirit around your business. Getting the word out about what makes your Christmas tree farm unique is key when it comes to building interest and securing potential customers, so utilizing opportunities through healthy networking will be priceless in helping you reach that goal.
Get Listed in Online Directories
Getting listed in online directories is an effective way to market your Christmas tree farm. Not only can you provide local consumers with helpful information, such as hours and location, but you can also gain access to a much larger target market and tap into the power of word of mouth online. With online directories, you can regularly update your listings to keep up with changes like new offerings or promotions and make sure they stand out from the competition. Investing in these small but important efforts will deliver big returns this holiday season when customers are looking for fresh Christmas trees!
A Christmas tree farm can be a great way to generate revenue and bring joy to your community. With the right tools and guidance, you can easily turn your dreams of starting a Christmas tree farm into reality. So, what are you waiting for? Get ready to start your own Christmas tree farm today!