Starting your own business is a huge undertaking, but it can be immensely rewarding. If you're passionate about beauty and have always dreamed of owning your own store, then a beauty supply business may be the perfect fit for you. But where do you start?
Luckily, we've put together this comprehensive guide to help you get started on the right track. From finding the perfect location to stocking your shelves with the latest products, we cover everything you need to know to make your dream a reality. So what are you waiting for? Let's get started!
Table of Contents
---
What is a Beauty Supply Business?
A beauty supply business specializes in selling products related to styling, grooming, and enhancing one's appearance. This can include makeup, skincare products, hair care products, nail polish and accessories, and even beauty equipment such as curling irons or blow dryers. These businesses often provide a wide range of options from drugstore brands to high-end luxury lines.
Beauty supply stores may also offer services such as makeup application or haircuts. In recent years, online beauty supply businesses have become increasingly popular as customers can shop from the comfort of their own homes. However, physical storefronts still hold appeal for customers who value being able to try out products or receive advice from knowledgeable staff members before making a purchase. Overall, a beauty supply business caters to the needs and wants of those looking to improve their appearance.
---
Why would I want to start a Beauty Supply business?
The beauty industry is booming and is only expected to grow in the coming years. If you're thinking about starting a business in this space, a beauty supply company is a great option. Here are four reasons why starting a beauty supply company is a wise investment.
Low startup costs
One of the main benefits of starting a beauty supply company is that the startup costs are relatively low. You won't need to spend millions of dollars on advertising or inventory, like you would if you were starting a clothing line, for example. Plus, there are plenty of affordable options when it comes to sourcing beauty supplies.
Fascinating niche market
The beauty industry is fascinating, and there's always something new to learn. If you love makeup, hair care, skincare, and all things related to beauty, then this is the perfect business for you. Not to mention, it's an industry with a huge potential customer base—everyone needs beauty products!
Recurring revenue stream
Another reason to start a beauty supply company is that it offers a recurring revenue stream. Once you get customers hooked on your products, they'll keep coming back for more—which means more sales and profits for your business.
Opportunity for growth
Lastly, starting a beauty supply company gives you the opportunity to grow your business as the industry grows. As the demand for beauty products increases, so too will the demand for your products—giving you the chance to scale your business quickly and efficiently.
Starting a beauty supply company is a wise investment for entrepreneurs interested in the fashion and beauty industries. The startup costs are low, and there's great potential for growth in this dynamic and ever-changing industry. Plus, what could be more fun than being surrounded by beautiful products all day long? If you're passionate about all things related to beauty, then starting a beauty supply company is the perfect way to turn your passion into profits.
---
How do I start a Beauty Supply business?
Have you ever looked at the selection of beauty supplies at your local store and thought to yourself, I could do this better? Or maybe you're passionate about makeup and hair products and have always dreamed of owning your own business. If you're considering starting a beauty supply business, here are a few steps you can take. With careful planning and execution, you can be on your way to success in the beauty industry!
Define your niche
Starting a beauty supply business can be an exciting venture, but it's important to first define your niche in order to stand out in the market. This involves specialized research and targeting specific demographics or needs, such as natural and organic products or ethnic hair care.
It also includes knowing your competition, both brick and mortar stores and online retailers, and finding a unique selling point that sets you apart from them. Defining your niche allows you to target your marketing efforts and effectively connect with potential customers. It also narrows down the types of products you offer, helping to streamline inventory management and create a cohesive brand image. Taking the extra time to define your niche can lead to long-term success for your beauty supply business.
Research the competition
Before opening any new business, it's important to have an understanding of the competition. In the beauty supply industry, this means researching the various stores or online retailers in your area.
Take note of their product selection, pricing, and customer service methods. This information can help you determine where your own store fits in the market and what unique offerings you can provide.
It may also give you insights into areas where there is a lack of options for customers, allowing you to focus on filling those gaps in your own store. Gathering this information before setting up shop can set you up for success in a competitive market.
Create a business plan
When starting a beauty supply business, it's important to have a clear plan in place. This includes identifying your target market, conducting market research, and creating a unique selling proposition for your products.
Additionally, you'll need to define your budget and determine which supplies and equipment you'll need to secure.
Be sure to also consider factors such as location and staffing, as well as how you will advertise and drive sales.
Developing a solid business plan can help ensure that your beauty supply business starts off on the right foot and sets you up for long-term success.
Find a location for your store
When starting a beauty supply business, it's important to choose a location that will attract customers and give them easy access to your store.
Evaluate the area you're considering for high foot traffic and proximity to other businesses in the beauty industry, such as salons and spas. It may also be beneficial to have nearby parking options or public transportation access for customers.
Research the competition in the area as well, though having some nearby can also boost business through customer comparison shopping.
Ultimately, choosing a location for your beauty supply store means balancing these factors to ensure that your potential customers can easily find and visit your store.
Stock your store with products
Starting a beauty supply business can be a lucrative venture, but it is important to carefully choose the products you decide to carry in your store. Consider current trends in the industry and ask yourself if the products will have lasting appeal. It can also be helpful to ask customers for their input on what they are looking for, as well as carefully studying the competition in your area.
Keep in mind that stocking popular brands can bring in customers, while also offering unique or specialty items can set your store apart.
Don't forget about necessary tools and accessories, such as brushes, applicators, and makeup removers. Taking all of these factors into consideration can help ensure a successful selection of beauty products for your store.
Promote your business
One key step in the process is to make sure potential customers are aware of your products and services. To effectively promote your business, consider creating a website with all the necessary information, such as store location, hours of operation, and a list of products offered.
Social media can also be a valuable tool for reaching customers, whether through paid advertisements or showcasing customer experiences with your products. Networking with other businesses in the industry can lead to potential partnerships or referrals.
Finally, don't forget about more traditional marketing options like flyers or local advertising. By utilizing a combination of these strategies, you can effectively spread the word about your new beauty supply business and attract customers.
Keep your customers happy
When starting a beauty supply business, one of the most important things to remember is to keep your customers happy. This may seem like an obvious rule for any successful business, but in the fast-paced world of beauty it can be easy for customer satisfaction to fall by the wayside.
Here are some tips for keeping your customers happy:
consistently offer a wide selection of products
ensure that your staff is well-trained and knowledgeable about those products
attentively listen to customer feedback
respond promptly to any issues or concerns
Remember, satisfied customers are more likely to not only make repeat purchases but also spread positive word-of-mouth about your business. In the beauty industry, where personal recommendations carry a lot of weight, happy customers can truly make or break a company's success. So don't underestimate the importance of customer satisfaction – keep your clients happy and watch your beauty supply business thrive.
---
How much does it cost to start a Beauty Supply business?
So, you want to start a beauty supply business? Whether you're looking to open a brick-and-mortar store or an online shop, there are a few things you need to take into consideration before taking the plunge. In this section, we'll outline some of the major startup costs associated with starting a beauty supply business, as well as some tips on how to keep costs down.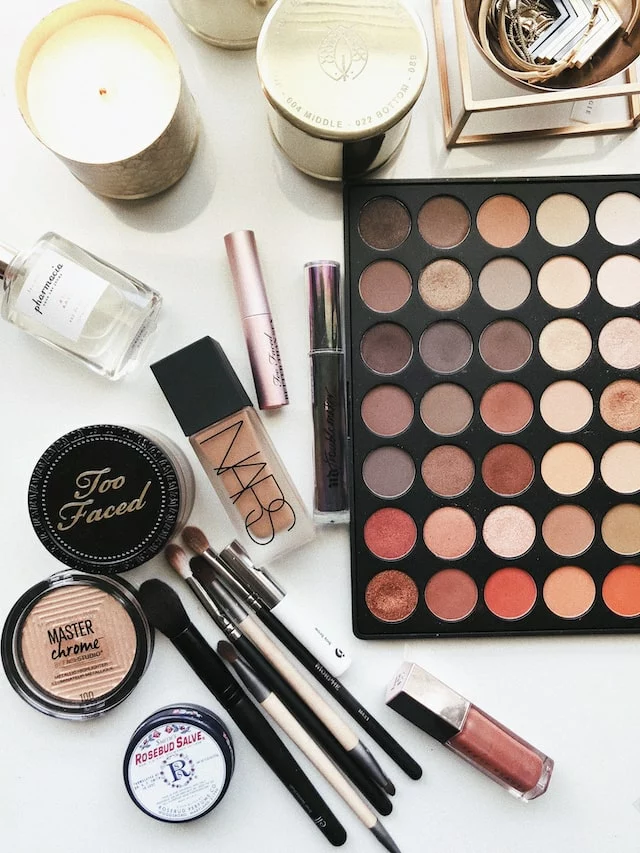 Inventory
One of the biggest startup costs for any retail business is inventory. When it comes to beauty supplies, you'll need to factor in the cost of products like hair extensions, wigs, hair care products, makeup, and more. If you're planning on carrying name-brand products, be prepared to shell out a bit more dough. However, there are ways to keep costs down by opting for generic or private-label products.
Location
If you plan on opening a brick-and-mortar store, then you'll need to factor in the cost of leasing or purchasing commercial space. The price will depend on factors like the size of the space and the location (prime real estate will obviously cost more). If you're planning on opening an online store, then you won't have this expense.
License and Permits
Before you can open your doors for business, you'll need to obtain the proper license and permits from your city or state. The cost of these will vary depending on your location. For example, in New York City, a general business license costs $125 while in Los Angeles, a cosmetology license will set you back $35.
Employee Wages
If you plan on hiring employees to help run your business, then you'll need to factor in their wages. Depending on the number of employees and their experience levels, employee wages can range from minimum wage (currently $7.25 per hour at the federal level) all the way up to $20 or more per hour for experienced stylists or beauticians.
Advertising and Marketing Costs
You can't run a business without advertising and marketing it—plain and simple. Whether you decide to go the traditional route with print ads or TV commercials, or opt for digital marketing strategies like SEO and social media marketing, you'll need to set aside some money each month for marketing efforts.
As you can see, there are several important factors to consider when determining how much it will cost to start a beauty supply business—inventory, location, licenses and permits, employee wages, and advertising/marketing costs among them. However, with careful planning and budgeting ,it is possible to open a successful beauty supply business without breaking the bank.
---
How do I find customers for my Beauty Supply business?
Have you ever dreamed of starting your own business? Maybe you have a great idea for a new product or service, but you're not sure how to get started. Or maybe you've been in business for awhile, but you're having trouble finding customers.
If you're in the beauty industry, finding customers can be especially challenging. But don't despair! There are plenty of ways to attract beauty-savvy consumers to your business. In this section, we'll share several tips for finding customers for your beauty supply business. Keep reading to learn more!
Define Your Target Customer
When starting a beauty supply business, it's important to define your target customer. Consider factors like age, location, and lifestyle. Are you targeting young professionals in the city? Middle-aged suburban moms? High-end clients looking for luxury products?
Once you have a clear idea of who your audience is, you can tailor your product selection and marketing strategies accordingly.
You may also consider targeting specific communities or niche markets, such as Black-owned businesses or eco-conscious consumers.
Ultimately, defining your target customer allows you to narrow down your focus and attract the right customers for your business. And never underestimate the power of word-of-mouth marketing – knowing and understanding your target audience can also help you achieve positive reviews and referrals from satisfied customers.
Develop a Marketing Strategy
When it comes to finding customers for your beauty supply business, developing a comprehensive marketing strategy is key.
First, take some time to identify your target audience through market research and demographic analysis. Once you have a clear picture of who your ideal customer is, consider both online and offline marketing tactics to reach them. This can include creating a website and social media presence, as well as advertising in local publications and hosting events or workshops.
Networking with other beauty professionals can also lead to potential customer referrals. On top of that, offering special deals or loyalty programs can help attract new customers and keep existing ones coming back. By carefully developing a targeted marketing strategy, you will be able to attract the right customers for your beauty supply business.
Create a Unique Selling Proposition
When creating a Unique Selling Proposition for your beauty supply business, one important thing to consider is what sets you apart from other competitors. Do you offer exclusive products not found elsewhere? Do you specialize in a certain type of beauty product or cater to a specific demographic?
Once you have identified your unique selling point, make sure it is clear and prominently featured in your advertising and marketing materials. Additionally, highlight the benefits of choosing your business over others – perhaps offering excellent customer service or competitive prices. Creating a solid Unique Selling Proposition can attract customers and set your business apart in the industry.
Build a Strong Online Presence
When it comes to promoting your beauty supply business, an online presence is crucial. With so many potential customers using the internet for their shopping needs, a strong presence can lead to increased visibility and more sales. One way to start building your presence is by creating a professional website and social media accounts on platforms such as Instagram, Facebook, and Twitter. These can be used to showcase products, offer promotions, and interact with customers.
Additionally, maintaining a blog or making use of influencer marketing can also help increase awareness of your brand online. Building a strong online presence takes time and effort, but it can be a valuable tool in finding new customers for your business.
Build Relationships with Local Influencers
When it comes to finding new customers for your beauty supply business, building relationships with local influencers can be a valuable strategy. Look for individuals in your community who have a big social media following and are known for their expertise in makeup and skincare.
Offer them free products to try and ask for their feedback. By sharing their positive experience with your products to their followers, they can introduce your brand to a whole new audience of potential customers. It's also worth reaching out to local beauty professionals, such as salon owners and stylists, who may be interested in carrying your products for their own clients.
Building genuine relationships with these influencers can not only bring you more customers, but also establish long-term partnerships that can benefit both parties. So don't underestimate the power of networking and building connections in the beauty industry!
Use Traditional Marketing Methods
When starting a new beauty supply business, it can be tempting to focus solely on digital marketing strategies like social media and email campaigns.
However, traditional marketing methods such as flyers, newspaper advertisements, and even word of mouth can still be extremely effective in bringing in customers. Think about the demographics of your target audience – are they more likely to read a local newspaper or scroll through Instagram?
Similarly, networking at events and offering loyalty rewards for referrals can help to spread the word about your business and attract new customers. Don't underestimate the power of tried-and-true marketing tactics – incorporating them into your overall strategy could make all the difference in growing your beauty supply business.
Focus on Customer Retention
When starting a beauty supply business, it can be tempting to focus all of your energy on finding new customers. However, it's important to remember that customer retention is just as crucial for success. The cost of acquiring a new customer is far greater than the cost of keeping a current one happy.
By focusing on retaining customers and providing excellent service, you can increase the likelihood that they'll come back for repeat purchases and even recommend your business to their friends and family.
One way to focus on customer retention is to send out surveys or conduct one-on-one interviews with current customers to gather feedback on their experience with your business. This information can help you identify areas where you can improve and ensure that your customers are satisfied with their purchases.
Additionally, offering loyalty programs and exclusive promotions for repeat customers can incentivize them to continue shopping with your business in the long run. In the end, prioritizing customer retention can lead to a more profitable and successful beauty supply business.