With its nostalgic appeal and potential for creativity, it's no wonder that starting an ice cream shop is a popular business venture. But as with any business, there are a few things you need to do before you can open your doors to the public. Here's a complete guide of what you need to know before starting an ice cream shop:
Table of Contents
---
What is an Ice Cream Shop?
The ice cream shop industry, also known as the frozen dessert and ice cream shop industry, encompasses establishments that primarily sell ice cream, frozen yogurt, sorbet, and other frozen desserts. These businesses often offer a range of ice cream flavors, sundaes, shakes, and ice cream-based desserts such as ice cream cakes. Some also sell coffee and other beverages.
The industry is highly fragmented with thousands of small ice cream shops operating throughout the United States. However, larger ice cream chains such as Cold Stone Creamery and Baskin-Robbins hold significant market share. Consumers' preferences for convenient treats and indulgences drive demand for ice cream shops.
Competition comes from grocery stores selling packaged ice cream products as well as larger restaurant chains serving ice cream-based desserts. In order to remain competitive in this market, ice cream shop operators must offer unique flavors or unique experiences to draw customers in.
---
Why would I want to open an Ice Cream Shop?
Whether you're looking for a recession-proof business or just want to be in the business of making people happy, an ice cream shop could be the perfect venture for you. With relatively low start-up costs and plenty of opportunity for creativity, an ice cream shop could be your ticket to sweet success!
The Rising Popularity of Ice Cream
In the United States, ice cream is a $39 billion industry. And it's only getting bigger. Between 2013 and 2018, the industry grew at a rate of 4.3%. This growth is being driven in large part by the rising popularity of frozen desserts among millennials. In fact, two-thirds of millennials say they're willing to spend more on high-quality ice cream.
What's driving this trend? A number of factors, including health consciousness and a desire for unique experiences. When it comes to health, Millennials are looking for options that aren't as high in sugar as traditional ice cream. And when it comes to experiences, they want something that goes beyond simply buying a product; they want an event or an outing that they can share with friends on social media.
There are a number of ways to capitalize on these trends. For example, you could start an ice cream shop that specializes in healthy, low-sugar options. Or you could focus on creating unique flavors or experiential offerings that would appeal to millennials looking for Instagram-worthy moments. No matter what direction you choose to go in, there's ample opportunity for profitability in the current climate.
Ice cream is a recession-proof business.
In tough economic times, people still treat themselves to small luxuries like ice cream. In fact, during the last recession, premium ice cream brands actually saw an uptick in sales. So if you're looking for a business that will weather any economic storm, an ice cream shop is a good bet.
Ice cream is a low-cost business to start.
Compared to other businesses, an ice cream shop is relatively inexpensive to get off the ground. You'll need some basic equipment like freezers and mixers, but you can find used equipment at a fraction of the cost of new. And because you won't need a lot of inventory on hand, you can keep your start-up costs low.
Ice cream is a fun business to run.
Let's face it: most people love ice cream. And who doesn't want to be in the business of making people happy? If you're passionate about ice cream and enjoy working with people, opening an ice cream shop could be the perfect business for you.
---
How do I open an Ice Cream Shop?
Do you love ice cream? Have you ever dreamed of owning your own business? If you answered yes to both of those questions, then opening an ice cream shop might be the perfect business venture for you! But before you can start scooping out delicious ice cream cones for your customers, there are a few things you need to do first.
In this section, we'll walk you through some of the key steps involved in opening an ice cream shop, from conducting market research to creating a business plan to finding the perfect location.
1. Conduct Market Research
The first step in opening an ice cream shop is to conduct market research. You need to find out if there's a demand for ice cream in the area where you want to open your shop and what kind of competition you're up against. There are a few different ways to conduct market research, but some of the most common methods include surveying potential customers and conducting a competitor analysis.
2. Create a Business Plan
Once you've done your market research and you're confident that there's a demand for ice cream in your area, it's time to start working on your business plan. Your business plan should include information on everything from your target market to your marketing strategy to your financial projections. If you need help getting started, there are a number of great business plan templates available online.
3. Find the Perfect Location
One of the most important aspects of any retail business is location, location, location! When you're looking for a place to open your ice cream shop, try to find a spot that's close to other businesses or attractions (like movie theaters or parks) so that foot traffic will be high. You should also make sure that the space is large enough to accommodate all of your equipment and that it has adequate refrigeration capabilities.
4. Get the Necessary Permits and Licenses
Before you can open your doors to customers, you'll need to obtain any necessary permits and licenses from your state and local government. Depending on your location, this could include a food handling license, health department permit, and/or business license. Check with your local Chamber of Commerce or Small Business Administration office for more information specific to your area.
5. Create a Unique Concept
Now it's time to start thinking about your shop's concept. What makes your shop unique? What kind of atmosphere do you want to create? Do you have any signature flavors or toppings that you want to be known for? Answering these questions will help you develop a clear brand identity for your shop.
6. Find a Reliable Ice Cream Supplier
For ice cream shop owners, finding a reliable ice cream supplier is crucial in maintaining the quality and consistency of their offerings. One option is to ask for recommendations from fellow ice cream shop owners or industry professionals. These individuals likely have firsthand experience working with various suppliers and can offer insights and advice on who to work with.
It's also important to thoroughly research potential suppliers' background and track record, including checking for any customer complaints or regulatory violations. Additionally, ice cream shop owners should inquire about supply chain processes and meet with the supplier in person to get a feel for their products and professionalism. By following these steps, ice cream shop owners can find a dependable ice cream supplier to ensure their business runs smoothly.
7. Get the Right Equipment
If you're going to be selling ice cream, you're going to need some special equipment. Most importantly, you'll need an industrial-grade freezer or refrigerator where you can store all of your ingredients and finished products. You'll also need some basic kitchen equipment like mixers, spatulas, and measuring cups/spoons.
8. Decide on a Menu and Price Points
When deciding on a menu and pricing for an ice cream shop, it's important to consider your target audience and what they are willing to pay for ice cream. Choose flavors that appeal to your specific customer base, and don't be afraid to experiment with unique options. Consider offering ice cream seasonally, as well as ice cream alternatives such as non-dairy options or frozen yogurt.
As far as pricing goes, do market research to see what the going rate is for ice cream in your area and try not to stray too far from that range. Offer different sizes so customers have options in terms of how much they want to spend. And don't forget about toppings and sundaes – these can be sources of increased revenue and customer satisfaction.
Ultimately, the key is finding the right balance between offering a diverse menu at competitive prices that will attract customers and generate profits.
9. Select a Point-of-Sale System
When selecting a point-of-sale (POS) system for an ice cream shop, it is important to first identify the specific needs of your business. Consider potential product options, such as ice cream flavors and toppings, as well as special offerings like ice cream cakes or ice cream sandwiches.
Next, determine what level of customer tracking and loyalty program integration you may want in your POS system.
Don't forget to factor in hardware requirements, like receipt printers and payment processing devices, as well as any integrations with third party systems like gift card vendors or online ordering platforms.
Finally, assess the overall cost and usability of the POS system before making a purchasing decision. Ultimately, choosing a POS solution that meets the unique needs of your ice cream shop will streamline operations and improve the customer experience.
10. Hire a Qualified Staff
Last but not least, you'll need to hire a staff of qualified employees who share your vision for the shop. When interviewing candidates, be sure to ask about their experience in customer service and food service as well as their availability to work various shifts including evenings and weekends.
11. Promote Your Opening!
Now that everything is up and running smoothly, it's time to let everyone know that your shop is open for business! Make sure to promote your opening through social media, flyers, ads, word-of-mouth—whatever gets people in the door!
The opening of a new ice cream shop is a highly anticipated event, but it's important to have a solid game plan for promoting the grand opening. One way to generate buzz is to offer special deals and promotions in the weeks leading up to the big day, such as discounted ice cream cones or free samples.
It's also important to utilize social media channels, including creating a dedicated hashtag and targeting local influencers who may be interested in trying out the new ice cream flavors.
Another strategy is to reach out to local newspapers, television stations, and blogs and invite them to come experience the store's offerings firsthand.
One option is to target local businesses by offering free samples or discounts for employees. You can also partner with nearby attractions, such as movie theaters or amusement parks, to create joint promotional deals.
And last but not least, don't forget about traditional marketing tactics such as flyers or posters placed around town. By utilizing a combination of these promotion strategies, you can ensure that your ice cream shop grand opening will be a success.
Opening an ice cream shop can be a great way to turn your passion for sweets into a thriving businesses venture—but it's not as simple as just buying a bunch of freezers and mixers and calling it a day. Before you can start whipping up batches of mint chocolate chip or cookies 'n' cream, there are a few key steps you need to take first, from conducting market research to creating a comprehensive business plan. But once you've got all of that taken care of, all that's left is making some delicious ice cream and scooping it out for all your new customers!
---
How much does it cost to start an Ice Cream Shop?
Starting an ice cream shop is no small feat—it requires significant time and financial investment. But if you have your heart set on scooping up some success in this sweet industry, the upfront costs shouldn't scare you off. With careful planning and execution, your dream of owning an ice cream shop can become a reality.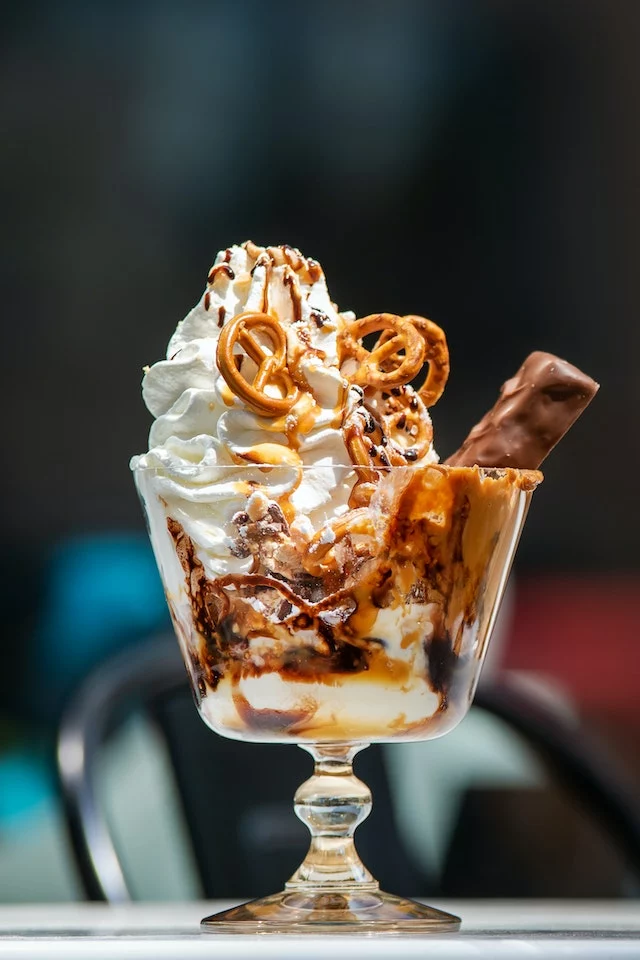 Here are estimated costs to starting an ice cream shop:
Equipment: $10,000 – $20,000
Ingredients: $2,000 – $5,000
Rent: $2,000 – $4,000
Insurance: $500 – $1,000
Permits and Licenses: $100 – $500
Miscellaneous startup costs: $1,000 – $5,000
Total Estimated Cost: $18,700 – $41,100
Your actual costs may be higher or lower depending on the location of your shop, the type of equipment you need, the suppliers you use, etc. However, this should give you a general idea of how much it will cost to get your business up and running.
Location
One of the biggest expenses you'll face when starting your ice cream shop is the cost of leasing or purchasing a retail space. The amount you'll need to spend will vary depending on the location you choose. If you're looking to open your shop in a high-traffic area, you can expect to pay top dollar for rent or purchase price. However, if you're willing to open your shop in a less desirable location, you may be able to get by with spending less.
If you're leasing a space, the costs will vary depending on the location and size of the space. For example, in New York City, the average cost per square foot for retail space ranges from $200 to $300.
Equipment
Another major expense you'll need to consider is the cost of outfitting your ice cream shop with the necessary equipment. This includes everything from freezers and ice cream makers to countertops, display cases, and small wares. If you're looking to save money, you may be able to find used equipment at restaurant supply stores or online marketplaces like Craigslist.org.
Equipment costs also vary depending on the type of establishment you're opening and the number of machines you need. A simple soft-serve machine can cost as little as $2,000, while a high-end Display Case Freezer can cost upwards of $22,000.
Inventory
Of course, you'll also need to factor in the cost of inventory when starting your ice cream shop. This includes everything from the actual ice cream itself to toppings, cones, napkins, and other necessary supplies. The amount you'll need to spend will depend on factors like the type of ice cream you plan on selling and how much of it you think you'll need on hand at any given time.
For a small operation serving soft-serve ice cream out of one machine, expect to spend around $700 on inventory per month. A larger business with multiple machines will obviously require more inventory, and the costs will increase accordingly.
Licenses and Permits
Depending on the state in which you're opening your shop, you may also need to obtain various licenses and permits before beginning operation. These can include things like a food handler's license, as well as permits for any signage or outdoor seating areas you plan on having. The cost of these licenses and permits will vary depending on the requirements of your specific state or municipality.
As you can see, there are a lot of factors to consider when budgeting for your new ice cream shop. With careful planning and execution, however, it is possible to open a successful ice cream business without breaking the bank. By keeping overhead costs low and focusing on selling high-quality products, you can give yourself a solid chance at achieving long-term success in the world of ice cream retail.
---
How do I find customers for my Ice Cream Shop?
You've got the perfect location for your ice cream shop. You've leased the space, outfitted it with everything you need to make and serve your delicious creations, and you're ready to open your doors to the public. But there's just one problem: you have no idea how to find customers. Don't worry—we're here to help. Keep reading for our top tips on how to find customers for your ice cream shop.
Create a unique selling proposition. What makes your ice cream shop different from all the others? That's what you need to communicate to potential customers. Whether it's your flavor selection, ingredients, or atmosphere, you need to let people know what sets you apart. If you can do that, you'll be more likely to attract customers who are looking for something specific.
Start with word-of-mouth marketing. The best way to get people in the door is by getting them to spread the word about your business. Offer incentives for customers who refer their friends, family, and coworkers, such as a free scoop of ice cream or a discount on their next purchase. You can also partner with other local businesses to promote each other's products and services. For example, you could team up with a nearby café and offer a discount on coffee when customers purchase ice cream, or vice versa.
Get involved in your community. Become a fixture in your neighborhood by getting involved in local events and sponsoring community teams and clubs. This will not only help you get your name out there, but it will also endear you to potential customers who appreciate businesses that give back. Attend block parties, set up a booth at the farmers' market, or host a fundraiser at your shop for a local charity. The possibilities are endless!
Use social media to your advantage. Social media is a powerful tool that can help you reach a wide audience with relatively little effort. Post mouth-watering pictures of your ice cream creations, let people know about special events or promotions, and encourage customers to tag their friends in your posts. Don't forget to also take advantage of paid advertising on social media; it's an effective way to reach even more people with your message.
Offer free samples. One of the best ways to attract customers to your ice cream shop is by offering free samples. This will give potential customers a chance to try your product and see if they like it before they make a purchase. And if they do like it, there's a good chance they'll come back for more. Just make sure you're only giving out small samples so you don't lose too much money in the process.
Partner with local businesses. Another great way to attract customers is by partnering with local businesses. For example, you could team up with a nearby cafe or restaurant and offer their customers a discount on your ice cream if they show their receipt. Or you could host an event at a local park or playground and hand out free samples to families. These kinds of partnerships will not only help you attract new customers, but they'll also help promote your business within the community.
Run promotions. Who doesn't love a good promotion? Running periodic promotions is a great way to attract new customers and keep existing ones coming back for more. For example, you could offer a discount for people who buy a certain amount of ice cream or for those who come in during specific hours. You could also hold a contest with prizes for the people who eat the most ice cream in a week or come up with the best flavor combination. Be creative and have fun with it!
Focus on customer service. Last but not least, don't forget about customer service. Treating your customers well is one of the best ways to ensure they'll come back again and again (and tell their friends about you). So make sure your employees are friendly and helpful, and take the time to resolve any issues that may arise promptly and efficiently. If you focus on providing great customer service, you'll be sure to attract (and keep) plenty of happy customers.
Attracting customers to your ice cream shop can be easier than you think—if you follow these simple tips! Offering free samples, creating a unique selling proposition, leveraging technology, partnering with local businesses, running promotions, and focusing on customer service are all great ways to get people in the door (and keep them coming back for more).