Have you ever considered starting a coffee supplies business? It's a great way to be your own boss, set your own hours, and make a real difference in the lives of coffee lovers everywhere. Plus, it's a lot of fun! In this ultimate guide, we'll show you everything you need to know to get started. We'll cover the basics of setting up your business, finding suppliers, marketing your products, and more. So whether you're just getting started or you're ready to take your business to the next level, this guide is for you. Let's get started!
Table of Contents
---
What is a Coffee Supplies business?
A coffee supplies business provides essential items for coffee shops and cafes. This can include coffee beans, milk, sugar, cups, stirrers, and other related products. Some coffee supply businesses also offer equipment such as coffee machines and grinders for their customers to use.
These businesses often work with coffee distributors and roasters to ensure a steady supply of high-quality options for their clients. Coffee supplies businesses also offer knowledge and expertise in the coffee industry, helping cafe owners select the right products or equipment to meet their needs.
By providing both essential items and helpful advice, coffee supply businesses play an important role in the successful operation of coffee shops and cafes.
---
Why would I want to start a Coffee Supplies business?
The coffee business is booming and shows no signs of slowing down. In 2019, the global coffee industry was worth an estimated $303 billion and is projected to grow to $358.4 billion by 2025. Specialty coffee shops have been popping up everywhere, from small towns to major metropolitan areas. But with this growth comes increased competition, and many small independent coffee shops are struggling to keep up. This is where you come in.
Starting a coffee supplies business can be a great way to get involved in the growing coffee industry without all the overhead of opening a brick-and-mortar cafe. Plus, there are several other advantages to starting a coffee supplies business that make it an attractive option for entrepreneurs. Here are three reasons you should consider starting a coffee supplies business:
You Don't Need Much Money to Get Started in the Wholesale Coffee Supplies Business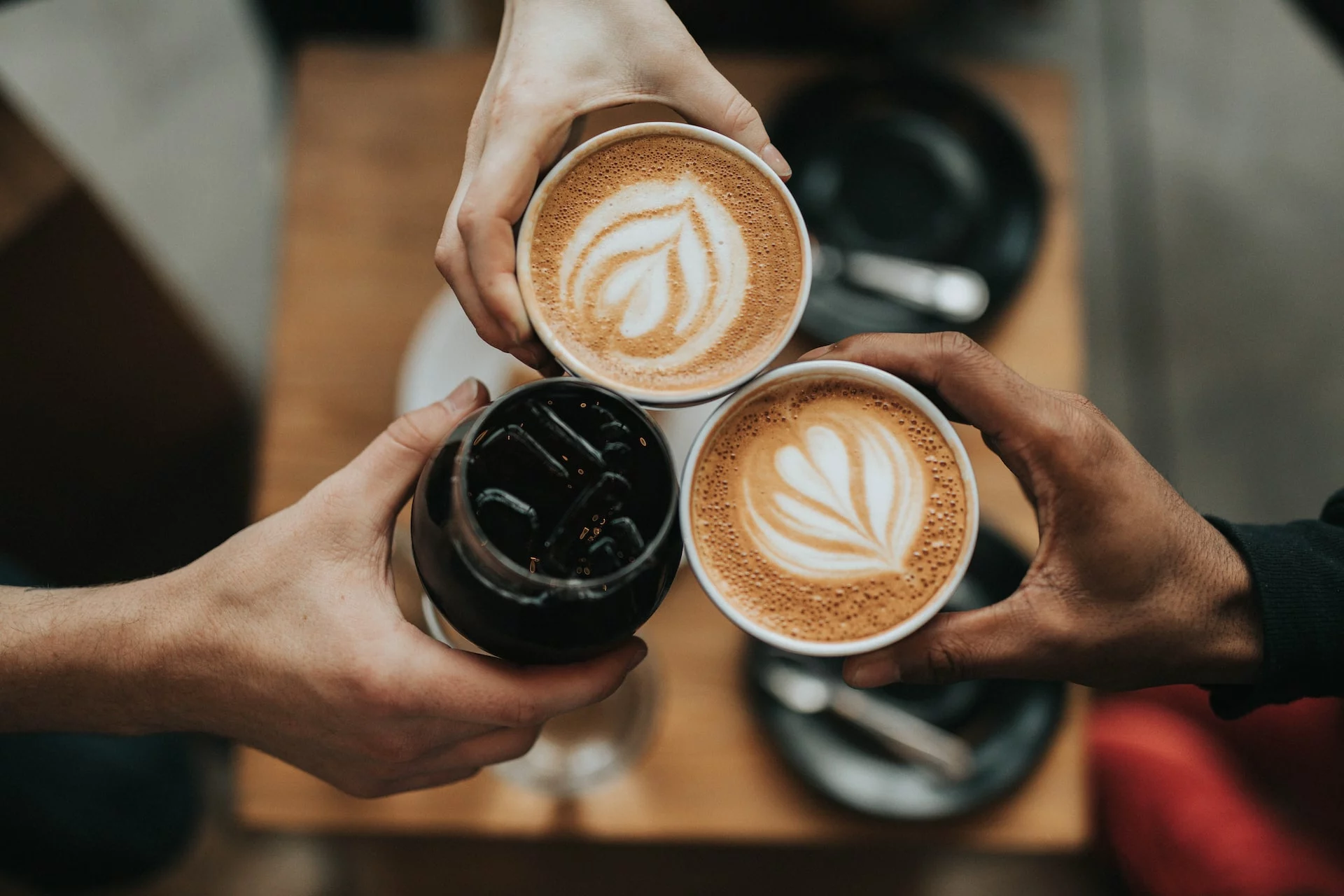 Despite popular belief, it doesn't take a hefty budget to get started in the wholesale coffee supplies business. Sure, it may be helpful to have some initial funds for purchasing inventory, but there are many ways to cut costs and save money.
One option is to start small and gradually build up your inventory as sales increase. You can also source coffee supplies from discount retailers or seek out suppliers who offer bulk discounts. Networking with other coffee industry professionals can also prove useful in finding lower-priced coffee supplies and potentially securing bulk orders from clients.
So don't let a limited budget prevent you from pursuing your passion for coffee – with a little research and ingenuity, it's possible to establish a successful wholesale coffee supplies business without breaking the bank.
There's a Low Barrier to Entry
The coffee industry is a booming market, with coffee shops popping up on every corner and sales continuing to rise. With such high demand for coffee, it's no surprise that the wholesale coffee supplies business has a low barrier to entry – anyone can open a store selling coffee beans, filters, or machines.
However, just because there are plenty of competitors in the market doesn't mean it's easy to succeed. To differentiate and stand out from other coffee supply businesses, it's important to offer quality products and excellent customer service. It's also crucial to have an intimate knowledge of the coffee industry and be able to advise and educate customers on the best coffee-related products for their needs.
While the wholesale coffee supplies business may be crowded, those who are willing to put in the effort and invest in their knowledge will find success in this thriving market.
You Can Be Flexible with Your Hours and Location
When it comes to starting a business in the coffee industry, one of the biggest perks is the flexibility it offers. As a wholesale coffee supplies provider, you have the opportunity to set your own hours and work from almost any location. Whether it's meeting with clients in their cafes or working remotely on managing inventory, there are countless opportunities to create a schedule that works best for you.
Not only does this provide more balance and control in your daily routine, but it also allows you to make more efficient use of your time and resources. So next time you're considering starting a coffee business, keep in mind the potential for flexibility it offers.
With proper planning and organization, you can make sure every day is efficiently spent on growing your coffee supplies empire.
The coffee industry is booming and there's no better time than now to get involved by starting your own coffee supplies business. With a low barrier to entry and flexible hours, a coffee supplies business is a great option for entrepreneurs who are looking for a way to get started in this growing industry.
---
How do I start a Coffee Supplies Distributor business?
Have you ever wanted to start your own business? Are you a coffee lover? If you answered yes to both of these questions, then starting a coffee supplies business might be the perfect entrepreneurial venture for you! In this section, we'll give you an overview of what it takes to start a successful coffee supplies business, from sourcing beans and equipment to marketing your products. With hard work and dedication, you can turn your passion for coffee into a thriving business. So let's get started!
Identify your target market
When starting a coffee supplies distribution business, it's important to identify your target market. Are you aiming to supply small local cafes, or larger chain coffee shops? Will you be selling primarily to offices and workplaces, or targeting retail consumers?
This will not only determine what types of products you should offer, but also where you should focus your marketing efforts. For example, if your target market is small independent cafes, it might make sense to attend local vendor fairs and establish relationships with shop owners.
On the other hand, targeting large corporate clients may require a more formal pitch and proposal process. By identifying your target market early on, you can ensure that every aspect of your business strategy is focused on meeting their needs and demands. In doing so, you'll set yourself up for long-term success as a coffee supplies distributor.
Research the competition
Before starting any business, it is crucial to research the competition. This is especially important in a highly saturated market like the coffee industry.
By understanding who your competitors are and what they offer, you can determine how to differentiate your own business and attract customers. Consider factors such as who your target audience is, where your competitors get their supplies from, their pricing structure, and any potential partnerships or alliances they may have.
Additionally, looking at customer reviews can provide insight into the strengths and weaknesses of each competitor. Thoroughly researching your competition allows you to create a unique value proposition and position yourself for success in the market.
Create a business plan
Starting a coffee distribution business involves more than just finding the right products and suppliers. You also need to create a comprehensive business plan that outlines your goals, marketing strategies, financial projections, and management structure.
First, identify your target market and niche within the industry. Are you selling wholesale to cafes and restaurants? Specialty equipment to home brewers? Organic beans to health food stores? Once you have determined your audience, research your competitors and determine how you will set yourself apart from them in terms of pricing, product selection, and customer service.
Next, outline a marketing plan to reach your target customers through advertising, social media campaigns, or events.
Finally, create financial projections for the first few years of operation and plan for any potential challenges or setbacks. A well-developed business plan is essential for securing investors or loans and ensuring long-term success for your coffee distribution business.
Source coffee and related supplies
Starting a coffee supplies distribution business can be a lucrative and exciting venture. The first step is to source the products you will sell, such as coffee beans, cups, stirrers, creamers, and sugars. It is important to research potential suppliers and compare prices to ensure you are getting quality products at competitive rates.
Consider whether it would be beneficial to offer both conventional and specialty coffee beans, or focus on one or the other. In addition to the coffee itself, you will also need packaging materials like bags or boxes for bulk orders, and shipping supplies like boxes and tape if you plan to offer online sales.
Once your inventory is sourced and ready to go, it's time to start marketing your business and finding clients in need of regular coffee supplies. Ultimately, proper sourcing can set the foundation for a successful distribution business.
Market your business
One important aspect to consider is how you will market your business. First, determine what sets your company apart from competitors. Are you offering uniquely high-quality products or competitive prices?
Next, figure out your target audience. Are you selling to individual customers or restaurants and cafes? Once you have a clear understanding of your unique selling points and target audience, create a marketing plan that includes advertising in relevant publications and using social media to connect with potential customers.
Don't forget to also network with fellow coffee lovers and industry professionals, as word of mouth can be a powerful form of marketing. By effectively promoting your business, you'll be well on your way to success in the coffee supplies distribution industry.
---
How much does it cost to start a Coffee Supplies business?
Most entrepreneurs underestimate the costs of starting a business. They often think that because they're not renting office space or hiring full-time employees, they can get by on a shoestring budget. However, there are plenty of other expenses to consider when starting a business—expenses that can quickly add up.
Take, for example, the costs associated with starting a coffee supplies business. Below, we've outlined some of the major expenses you'll need to account for when calculating the true cost of starting your own coffee supplies business.
Office Space & Equipment
If you're planning on selling coffee supplies out of your home, you may not need to worry about renting office space or purchasing equipment. However, if you're planning on opening a brick-and-mortar store or roastery, you'll need to factor in the cost of renting or purchasing commercial space as well as the cost of outfitting that space with all the necessary equipment (e.g., espresso machines, grinders, brewing systems).
Inventory
Of course, you'll also need to purchase inventory for your business. The cost of inventory will vary depending on the types of coffee supplies you plan on selling and where you source your inventory from. For example, if you're sourcing directly from producers in developing countries, you may be able to get by with a smaller budget than if you're sourcing from more established suppliers in Europe or North America.
Shipping & Handling
If you're planning on shipping your coffee supplies internationally, you'll need to factor in the cost of shipping and handling. Depending on the weight and volume of your orders, shipping can be quite costly—particularly if you're using express shipping options.
Licenses & Permits
Depending on your business model and location, you may need to obtain various licenses and permits before starting your coffee supplies business. The cost of these licenses and permits will vary depending on the type of business and location but can typically range from a few hundred dollars to several thousand dollars.
Marketing & Advertising
Finally, don't forget to factor in the cost of marketing and advertising when calculating the true cost of starting your coffee supplies business. Whether you plan on doing online marketing or more traditional forms of advertising (e.g., print ads, radio ads), marketing can be quite costly—particularly in the early stages of your business when name recognition is key.
As outlined above, there are numerous costs associated with starting a coffee supplies business—costs that go beyond simply purchasing inventory and shipping it to customers. When calculating the true cost of starting your own coffee supplies business, make sure to factor in all of the above expenses so that you don't find yourself underfunded and unable to grow your business as planned.
---
How do I find customers for my Coffee Supplies business?
You've started a Coffee Supplies business. Congratulations! You're on your way to being your own boss and serving delicious coffee to people who need it. But now you're wondering, how do I find customers for my new business? Luckily, there are a few things you can do to get the word out about your new venture. Here are several ways to help find customers for your Coffee Supplies business.
Network with other business owners in your area
As a coffee supplies distributor, networking with local business owners can be a great way to find new customers. Consider joining a local business association or Chamber of Commerce in your area, where you can interact with other professionals and discuss potential partnerships.
You may also want to consider hosting a networking event at your business, inviting local coffee shops and cafes to come visit and sample your products. Don't forget about the power of word-of-mouth marketing – reach out to any connections you may have in the coffee industry and ask for recommendations or referrals.
Finally, try using social media as an additional tool for networking – many businesses have Facebook pages or LinkedIn profiles where you can connect and potentially strike up new relationships. Put yourself out there and never underestimate the value of face-to-face interactions – making connections with other local businesses can lead to new opportunities for growth and success.
Attend trade shows and industry events
If you're looking to expand your customer base for your coffee supply distribution business, one great way to do so is to attend industry events and trade shows. These events provide an opportunity for networking and connecting with potential clients in person.
When attending a trade show, it's important to have a strong presence at your booth. Make sure your display is well-designed and stands out from others, and have literature or samples available for attendees to take with them. It's also important to make the most of your time at the event by actively seeking out connections and reaching out to potential partners or customers during and after the event.
Attending industry events and trade shows can be a valuable investment in finding new clients for your business.
Advertise in local newspapers, magazines, or online directories
One great way to expand your customer base is by advertising in local newspapers, magazines, or online directories. These channels allow you to target a specific audience, such as cafes and restaurants in your area. Additionally, advertising gives potential customers the opportunity to learn about your business and the products or services you offer. Don't forget to include important information like your contact information, website, and social media accounts in your advertisement.
With some creativity and strategic advertising efforts, you can attract new customers and grow your coffee supply distribution business.
Provide excellent customer service to keep customers coming back
When it comes to running a successful business, customer satisfaction should always be a top priority. Providing excellent customer service can make all the difference in building repeat business and generating positive word-of-mouth.
For example, consistently going above and beyond for your coffee supply clients by ensuring timely delivery, addressing any issues promptly, and offering personalized suggestions can not only keep them coming back, but also attract new customers.
In fact, studies have shown that a positive customer experience can lead to increased brand loyalty and higher rates of recommendation to others. So next time you're managing your coffee supplies distribution business, remember that a little extra effort in the customer service department can result in major benefits for your bottom line.
Stay up-to-date on the latest trends in the coffee industry
When it comes to running a successful coffee supplies distribution business, it's important to constantly stay on top of the latest trends in the industry. This means regularly reading up on everything from new brewing methods to popular flavor profiles and specialty ingredients.
By knowing what consumers are currently interested in, you'll be able to make better decisions about the products you carry and how to market them to potential customers. Don't limit yourself to just the mainstream trends either – staying informed about niche trends can also help you target specific segments of the market and expand your customer base.
Remember, staying up-to-date doesn't just mean passively gathering information – it also involves actively seeking out new opportunities and being willing to adapt as the industry changes. With a little effort, you can position yourself as a knowledgeable and reliable partner for coffee shops and other businesses.